In episode 6 of SYNC B-sides, we speak to Adrian Tan. Named one of the Top Global Influencers in HR Tech by AIHR, Adrian writes extensively about the Future of Work on his website and is the creator of the Singapore HR Tech Market Map. He is also a fellow podcaster and interviews Future of Work enablers on his podcast – The Adrian Tan show.
He was a serial entrepreneur in the recruitment, career search, and HR consultancy space, leading to two HR Vendor of the Year awards, the SHRI HR Entrepreneur award, and the Global Recruiters Best Marketing award.
READ MORE: The first episode of SYNC B-Sides is with David Bobis from Business over Drinks
Adrian is also a fractional CMO, helping businesses with key marketing aspects by providing his expertise and support on a reduced workweek basis.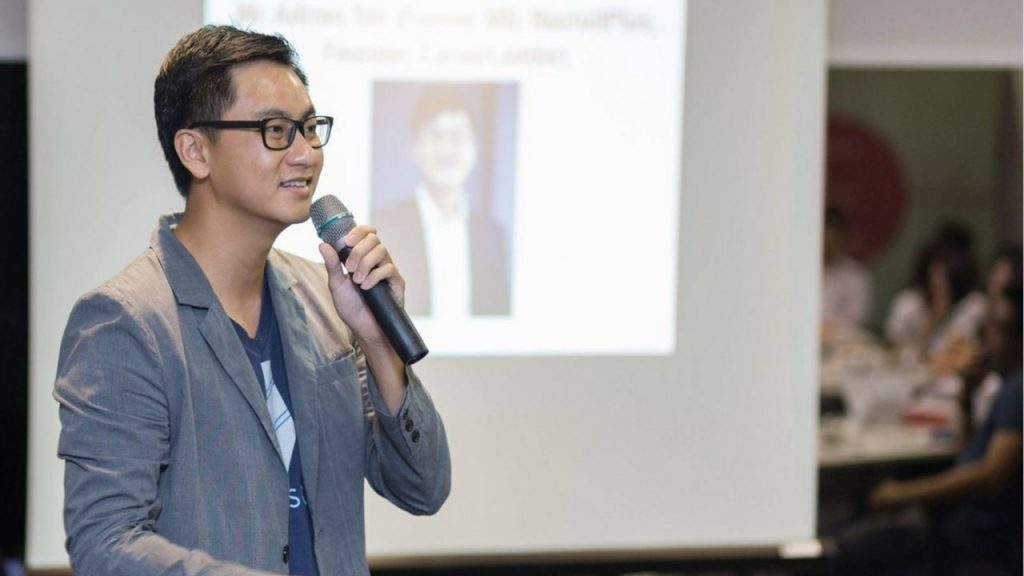 In this series helmed by SYNC CEO Terng Shing Chen, the conversations are an effort to create and encourage authentic conversations around marketing, communications and growth in Southeast Asia. They cover a variety of topics that are driven by real experiences faced by the interviewee and interviewer.
Adrian Tan's interview synopsis
Here's a short breakdown of what we discussed during the interview about being an expert, discussing what is a fractional CMO and more.
Adrian Tan's journey into podcasting was an accidental one that stemmed from his desire to scratch an itch and get to know people better. He was fueled by his curiosity to learn about their lives and understand what was going on with them. He also mentions how podcasting helped him improve his skills as an emcee or moderator at events by teaching him how to ask good questions.
To monetize his niche podcast, which has a smaller pool of listeners compared to other mainstream topics, Adrian primarily focused on securing sponsorships and providing a suite of services to companies. These services included podcast hosting on Zencaster, LinkedIn campaigns, newsletter banners, and mentions on his podcast. He also expanded his offerings to become a fractional CMO, providing strategic marketing support to smaller companies on a reduced workweek basis.
Adrian Tan's role as a fractional CMO involves taking on assignments for clients who are looking for experienced support but cannot commit to hiring a full-time in-house CMO. He has worked with clients in new market entry and clientele revamps, with a particular focus on his expertise in the HR space. He stresses the importance of being a true expert in a field rather than simply calling oneself an expert.
Despite never working in HR, Adrian Tan became known as an HR tech expert by creating content about HR technology, which led to media outreach. He advises consistency in content creation and putting in enough time to become decent to be perceived as an expert. He also highlights how overusing the term "expert" can lead to its loss of value.
Adrian Tan is disillusioned with the concept of "experts" who only have limited experience using a new app or platform. He believes this overuse of the term can devalue its meaning.
In addition to his podcast and fractional CMO roles, Adrian Tan is also a co-host and guest on other podcasts. He mentions that managing people is the least fun part of running a business but feels confident in his job as he brings valuable skills to the table, unlike those who cannot even apply marketing to themselves, such as having an unimpressive LinkedIn profile.
Adrian Tan stresses the importance of practical executional knowledge for marketers, particularly in performance marketing. He believes that marketers need to catch up on the practical aspects of marketing, such as project management because anyone can learn these skills. Although marketers don't need to practice every aspect of marketing execution, they should have a basic understanding of it and at least go through the mechanics of it.
Having practical executional knowledge will enable marketers to add value to their organization, especially in a corporate function role. Adrian Tan stresses the importance of marketers having a broad skill set and not just a narrow focus on a specific area of marketing.
Adrian Tan mentions that managing people is the least fun part of running a business. While it is essential, he finds it less enjoyable than other aspects of his job, such as content creation and strategic planning.
Adrian Tan stresses the importance of having a strong personal brand, including a professional LinkedIn profile. He believes that having a well-crafted profile can help individuals stand out from the crowd and attract potential employers or clients. He advises individuals to invest time and effort into creating a professional-looking profile that showcases their skills and experience.
READ MORE: Episode 4 of SYNC B-Sides is with Grace Ong from LintraMax
You can listen to an episode of Adrian Tan's podcast below.
What is SYNC B-sides?
SYNC B-sides is our very own video series (or podcast) that features marketers, PR practitioners, entrepreneurs and growth experts looking to have honest conversations about the evolution of their industry. Helmed by SYNC CEO Terng Shing Chen and focused on generating real conversation, this series shines a spotlight on people making an impact in their field. Subscribe to SYNC's YouTube channel for all the clips.
How to work with us?
If you would like to be featured on our platform or work with us to help scale your business, drop us a message at hello(@)syncpr.co and a consultant will be in touch.