Steering towards an omnichannel event strategy, Gevme launches an integrative and multipurpose event website builder that reimagines and transforms the way we manage events.
Leading virtual events and events technology provider Gevme has announced the launch of the new Event Website Builder – an innovative and easy-to-use event website creation platform.
The transition of events from physical to virtual and now hybrid has reshaped the way we think about events. Apart from new technologies, attendee expectations have also evolved – they value the convenience and accessibility of event content more than ever. As the concept of omnichannel marketing sweeps over the retail industry and into the event industry, it is quintessential for event professionals to adapt and adjust.
Embracing omnichannel also means embracing "omnicontent" – displaying your event content through various digital touchpoints such as mobile apps, websites and even the metaverse. A good omnichannel event must be complemented with an equally centralised event website for attendees to navigate seamlessly and access event content.
To help event professionals easily create a website that serves as a true digital extension of their event, Gevme has designed an ideal, all-in-one event website builder.
Create once, publish anywhere
Be it an in-person conference or virtual summit, the event website builder can configure a set of pages that works for every type of experience and use case. This includes public pages for registration and general content, along with private pages for on-demand content, live streams, breakout rooms, gamification and more.
For the event professional, the all-in-one website allows data and content to be centrally stored and managed from just one place. When it's time for an event, the content can be easily published and distributed to various different platforms using Gevme widgets.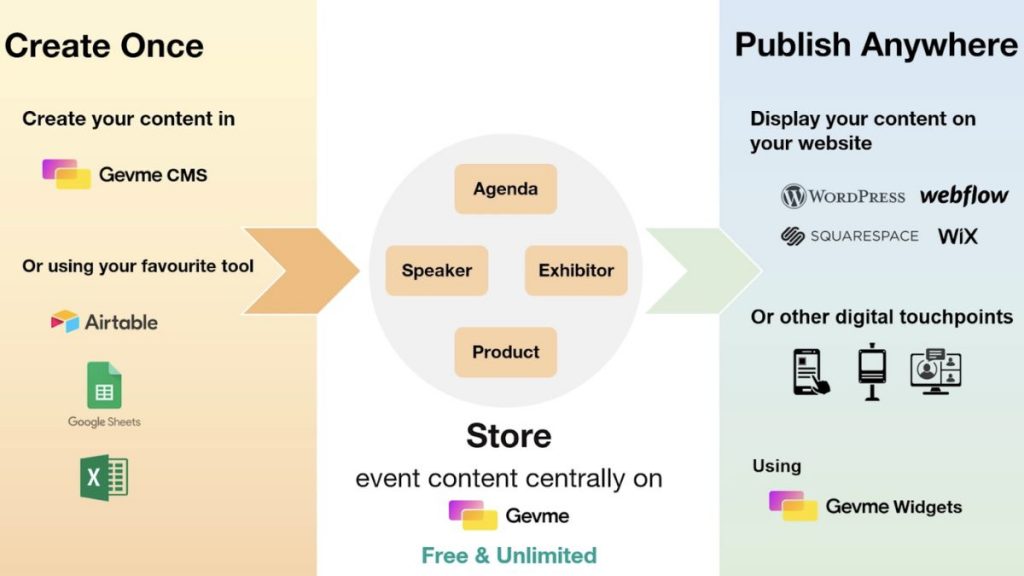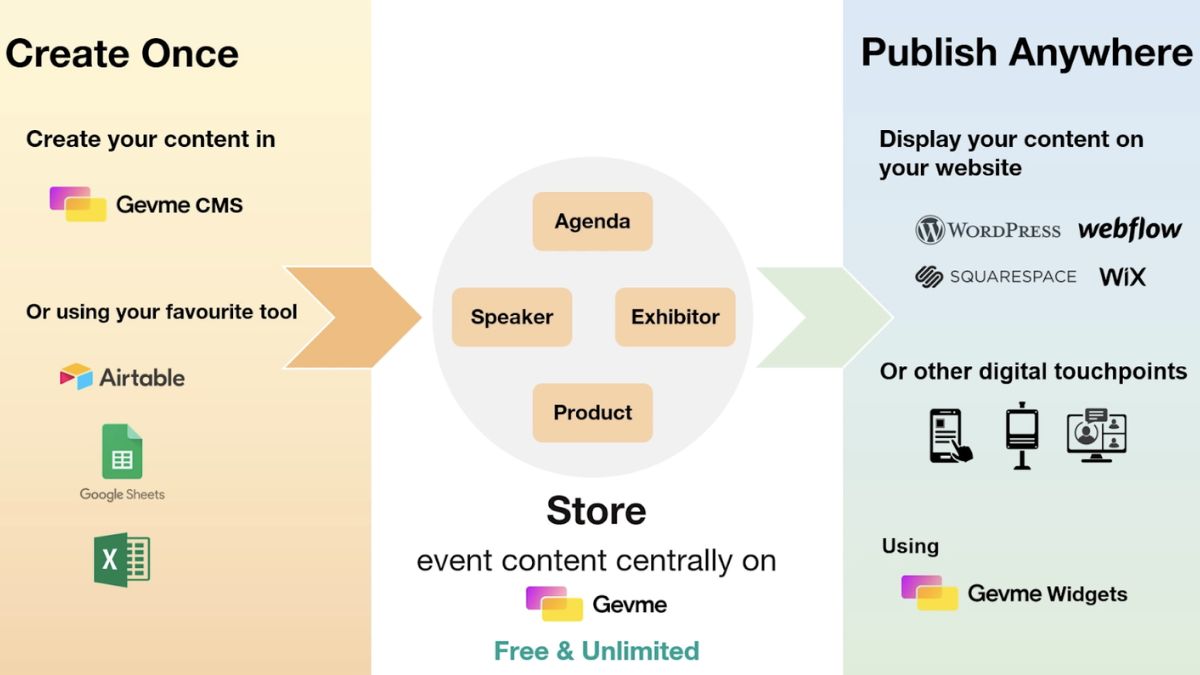 Its integrative feature also means that a host of different systems and applications such as Eventbrite, Webflow and other 5000 applications can be accessed through one centralised website. What's more – the event website builder is collaborative and no-code, and even features built-in SEO capabilities to help designers create a website that is both engaging and effective. They can also find a selection of over 50 professionally-designed templates and widgets to enhance the look and feel of the website for any type of event.
Here's Jonathan Easton, Co-founder and VP of Design at Gevme, giving a full walkthrough of the Event Website Builder.
"Each event is unique, each event has its own specific goals. We're not just launching a generic website builder, the world doesn't need yet another website builder. What we're launching is 50 out-of-the-box event experiences. Whether you're looking for a beautiful, professional website or a funky town hall in a 3d world, we've got you covered. That's what makes it exciting." shares Veemal Gungadin, CEO of GEVME.
About Gevme
Gevme is a leading event technology provider and trusted partner for high-profile events. Headquartered in Singapore, they provide the most efficient software services and on-site solutions to clients worldwide, and their operating system has been used to power some of the world's biggest events.
---
If you need public relations in Singapore, we can help support your growth as a business. We have an experienced team of consultants, content developers and creatives to help you scale your company.
You can see other press releases we have written and/or disseminated by referring to our page of SYNC press releases.