WORQ, Malaysia's leading coworking and flexible space provider, announces that it has successfully completed its latest fundraising round, backed by 14 follow-on investors, signifying a strong vote of confidence in the firm's performance. Global asset management firm, Phillip Capital, helms this round with its largest placement to-date and its third consecutive investment into WORQ.
Amidst the backdrop of rising global interest rates and a slowdown in startup investments, WORQ successfully concluded this funding round. This achievement underscores WORQ's exceptional track record of profitability and its dominant market position. While this internal pre-Series B round primarily caters to its existing investors, preparations are underway for a Series B round with external investors in the near term.
The funding raised will be fully utilized for space expansion. WORQ is currently on track to double its space under management by the end of 2023 and aims to triple that space to 450,000 sqft by 2025. In 2023, the company achieved strong revenue growth of 80% while maintaining mid-teen net profit margins, solidifying its position as an industry leader. This remarkable success is attributed to WORQ's demand-centric strategy, which aims to achieve both outstanding risk management and hypergrowth simultaneously, setting it apart from industry peers that have faced closures or consolidation.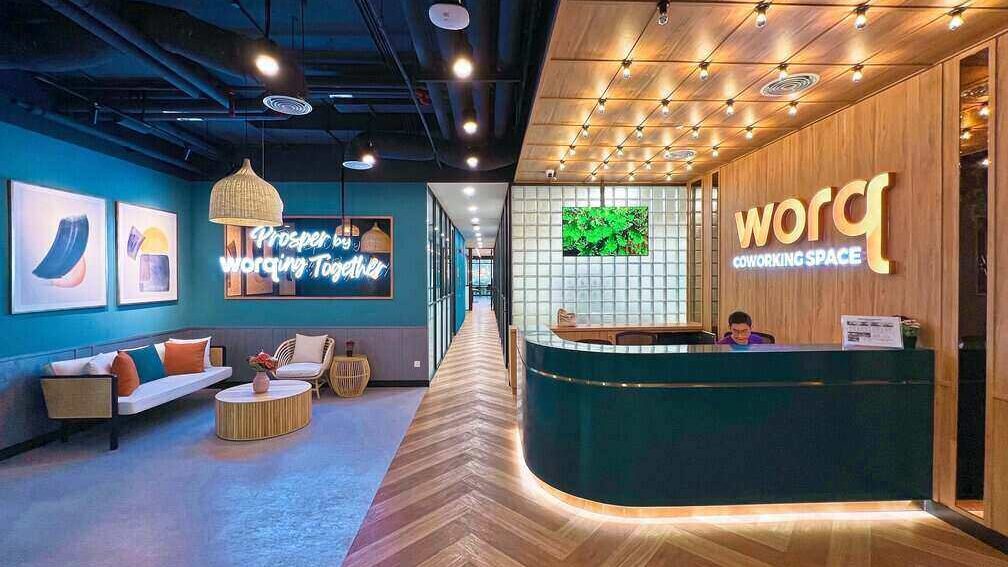 Office network infrastructure encourages business formation in Malaysia
Notably, the demand for flexible office space continues to accelerate, with WORQ achieving an average of two months to fill its new space expansions. In addition to its traditional coworking clientele, which includes tech startups and SMEs, WORQ is experiencing increasing demand from global firms expanding into the region.
Corporate clients are prioritizing agility and choose to use coworking spaces because they can swiftly deploy and go-to-market quickly while remaining asset-light. Corporate clients now account for 70% of WORQ's demand compared to only 20% before the pandemic. Recognizing this trend, several landlords and REITs are partnering with WORQ to provide these solutions to their buildings, gaining a competitive edge in attracting additional tenants and subsequently boosting rental yields.
CEO of Phillip Capital Management Ltd, Linus Lim, expressed his enthusiasm, stating, "As an investor of WORQ, we have witnessed the rapid growth and the world-class services they provide. WORQ's adept cost management and efficient growth strategy positions them as a scalable and sustainable business model, capable of competing not just locally but also on a global scale. We value founders who can anticipate industry trends, and WORQ's team has undeniably demonstrated their strategic foresight, a quality that gives me confidence in their future success."
Rachel Leong, Director of Group Strategy and Operations at Mah Sing Group, who led this investment for the Leong family office, expresses her support stating that, "We are optimistic about the growth in demand for flex spaces and are thrilled to be part of WORQ's growth journey. With a customer-first approach, prudent financial management, and disciplined execution, we have full confidence that WORQ will continue its growth story in the coming years."
Acting Group CEO of Cradle, Mr. Norman Vanhaecke says, "Cradle is behind WORQ all the way, as they are vital to the ecosystem for the growth of startups. Once companies receive funding, having a robust community of entrepreneurs to plug into is very important. To stay competitive in the world stage, it is imperative that we encourage the good work that WORQ is doing as they have a lot of positive spillover effects for the good of the country,"
According to JLL Research, the current market penetration for flexible offices in Kuala Lumpur is only around 1%, compared to the regional average of 3%. In the long run, JLL predicts that the demand for flexible office solutions will increase the penetration rate to 30% by 2030, signifying substantial room for WORQ to continue enhancing Malaysia's status as a world-class business hub.
Stephanie Ping, CEO and Co-founder of WORQ, shared, "Southeast Asia has become a prime location for many businesses looking to diversify and build their global supply chain. The Malaysian market is strategically positioned to capture these opportunities as we are a diverse, multilingual country with an educated talent pool and a robust SME supply chain. As a growing economy, we must improve the ease of doing business in Malaysia by making hiring easier for companies. Infrastructure issues can be a significant hurdle for businesses looking to invest in a new market; WORQ's innovative Space-As-A-Service model provides clients scalability and flexibility through its network of cloud offices. We have built a network of one-stop business centers that serve as vital infrastructure for foreign and local business formation in Malaysia. We see this as a foundational part of the cycle of job creation, upskilling and knowledge transfer. This vibrant business ecosystem will create high-income jobs to secure Malaysia's long-term sustainable development."
Looking ahead, WORQ sees the opportunity to become the best Space-As-A-Service provider with the widest office network in Malaysia. The company aims to become the 'Amazon of office spaces' by providing scalability to office users, similar to that of Amazon Web Services in cloud computing. WORQ has plans to further expand its space under management to a sizable 3,000,000 sqft by 2030. To date, WORQ has incubated 300 startups and 100 tech companies with plans to enable over 10,000 workers by 2025.
– END –
About WORQ
WORQ's mission is simple; to liberalize real estate for the countless people using it. To do so, it aims to provide Google-like offices everywhere and enable users to consume real estate via a Space-As-A-Service model. Through its community-centered spaces, WORQ has garnered a total of 9 awards since its inception including the prestigious TechNode Global ORIGIN Innovation Awards for Best Community Builder.
Boasting honoured guests that have passed through its doors such as King Charles III, who visited their TTDI outlet in 2017, and Executive Secretary of the U.S. Department of State, Kamala Lakhdhir who visited in 2018, WORQ's hyper-localized community centres are the meeting place for workers and businesses alike which in turn attracts high-profile visitors to engage with its robust community.
WORQ has been working on its secret recipe for scaling this model effectively. It ultimately aims to fulfil its vision, which is to help people prosper by working together.
---
If you are looking for public relations for SMEs, we have an experienced team of consultants, content developers and creatives to help you scale your company with effective social media PR campaigns. We have worked with over 150 businesses, of which 78% returned to work with us again.
You can see other press releases we have written and/or disseminated by referring to our page of SYNC press releases.