Threads for PR and social media campaigns: should you consider it? Lots of changes have hit the social media sphere since Elon Musk took over Twitter and rebranded it to X. Recently, Elon Musk suggested that he might want to start charging a subscription fee to use X bringing about a wave of uncertainty about the future. Since the takeover, numerous social media alternatives have popped up including Blue Sky (by the former Twitter CEO), Mastodon and most notably Threads by Meta. 
Threads is built on top of Instagram. To sign up for an account on Threads, users simply connect their existing Instagram accounts to create a Thread profile. The integration with Instagram also means that they can import their existing following list instead of having to build their network from scratch. Leveraging Instagram's popularity and users' pre-set audience, Threads is the only alternative that comes close to the number of users on X, drawing a surprising 30 million signups on the first day it was launched. However, the number of daily users has dropped significantly since, despite its resemblance to X, some have criticised it for lacking features and its faulty algorithms. 
Both X and Threads take on the same text-based model of social media that focuses on creating conversations by sharing opinions and ideas with the world. These platforms greatly benefit professionals as they allow media, organisations and the public to communicate effectively. The new addition to Meta's growing roster was thought to be a promising one for social media marketers and PR professionals, but what lies in the future? It might be too early to say that Threads would take over, but with growing concerns about X, it might be a worthy contender to take its place.
While former X users find their new stomping grounds, here are a few ways that you can use Threads for PR.
Incorporate cross-posting into your social media strategy
Despite the huge wave of initial sign-ups, there have been worries that the platform will slowly lose steam. The number of active users on Threads has dipped significantly. In a study of Android users in the US, the number of active users on Threads has dipped significantly from 41.79 million daily active users when it first launched in July to 10.3 million active users in August. However, Threads is integrated with Instagram, which has over 2 billion monthly users. Thus, brands can take advantage of the integrated sharing function by posting some threads onto their Instagram story. 
The easy navigation between Threads and Instagram also allows brands to shift the conversation across multiple platforms, you can cross-post with almost any text-based social media platform. Repurposing content amplifies the key message to a wider audience and ensures consistency and using texts in the visuals can communicate the key message clearly, instead of confining it to the caption.
Read more: How to create a good social media content strategy in Tech PR?
We see Krave Beauty emphasising the effectiveness of their product even when used on a dog for two days. The lighthearted candid post includes a Slack message with emoji reactions from other members, prompting fans to post about the unconventional ways that they have used the skincare product. Instead of having to screenshot posts, Threads allows users to repost seamlessly, Meta's own VP used the repost function that automatically formats and designs the Threads post so that it is fitted for Instagram.
Using the 'for you' page on Threads for PR
The main Threads page contains both the 'For You' and the following tab. Similar to TikTok's 'For You' page and Instagram's 'Explore' page, Thread's 'For You' tab will show a plethora of recommended posts from users that you may not follow. The recommendations are made based on the elusive algorithm and individual user's historical activity. This feature exposes users to accounts they might not have come across before. Additionally, with no advertisements on the platform (yet) PR professionals and marketers with the opportunity to grow organically by introducing their brand to new audiences and generating new leads.
There is no surefire way to game the algorithm, but increased engagement with the right audiences would signal to the algorithm to boost your post. This can be done by posting engaging content and holding contests and giveaways exclusively on Threads, to incentivise user interaction. Sustained engagement is achieved through understanding the audience and posting content that resonates with them.
Crafting an approachable and engaging brand voice when using Threads for PR
Text-based social media is great for sparking discussions and fostering a community as users become more familiar with the brand. Public conversations and interactions via texts on platforms like Threads allow consumers a glimpse into the brand values and voice in action. Through sustained interaction and consistent posts, brands can showcase their brand's personality and keep it at the top of users' minds.
Read more: 5 steps to building a personal brand as a first-time entrepreneur
Case Study: WhatsApp
WhatsApp currently has 359k followers on Threads, and posts regularly on the platform. Recently, they rolled out "WhatsApp Channel", and collaborated with Netflix US on Threads to boost the new feature. We can see the brands interacting here:

Netflix stays authentic to its brand, posting a still from 'Call Me By Your Name' while promoting its WhatsApp Channel. The key takeaway is that you should craft a unique voice when using Threads for PR, based on the platform, your brand and your target audience. In this instance, both WhatsApp and Netflix have taken a more candid and conversational approach by using emojis and slang in their posts to cater to a younger crowd and encourage users to interact with them.
Building relationships on Threads for PR
Media and consumers sometimes use social media as a way to connect directly with a brand. Consumers may ask questions, and share their experiences while journalists and media publications may even use the channel to reach out for an interview or cover important ongoing events. Timely replies show that your brand is actively listening and able to grasp opportunities when they come to light. Additionally, when using Threads for PR, you can reach out or respond to relevant media outlets, other brands, or users directly by mentioning or replying to their Threads. These positive interactions can lead to mutually beneficial working relationships in the future and may play a part in increasing coverage for the brand. You can see in this interaction between The Straits Times and Redbull: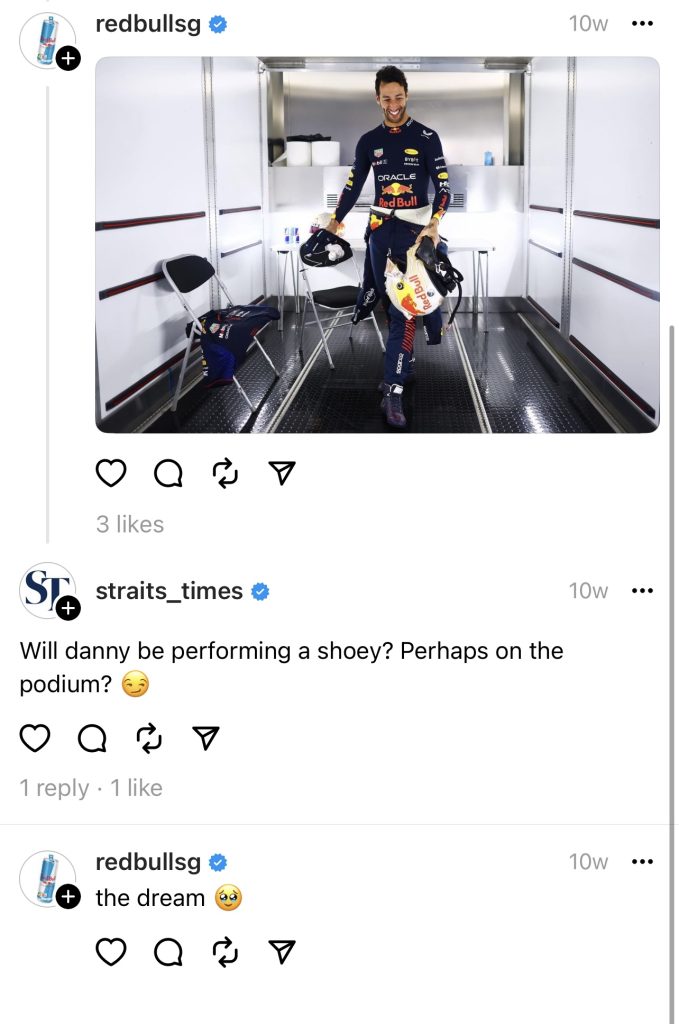 Responding to customers on Threads for PR
When using Threads for PR, some users take to Threads to air their grievances or share issues they are facing with the product or service. The way a brand responds and interacts with these posts provides other users with insight into the brand's values and also demonstrates effective damage control. Handle complaints carefully and offer a solution or provide reparations, it might increase the likelihood of winning back their trust and forming a good reputation for the brand.
Case Study: NYTGames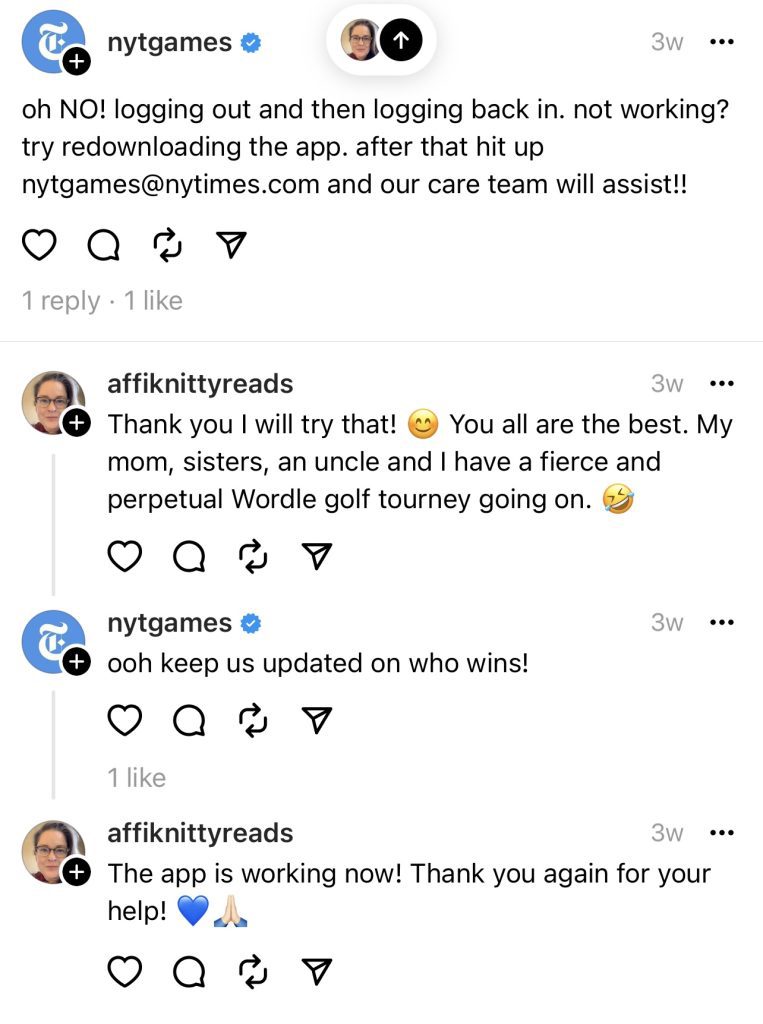 In this case, NYTGames shows concern about the user's issue, providing a few solutions and directing her to the care team. Plus, they manage to build rapport with her by adopting a friendly tone and showing interest in the user's Worldle tournament.
Threads is still a relatively new platform and has lots of room for improvement. It might be too quick to say whether or not it will take off, but text-based platforms can do wonders for PR professionals to build brand reputation and foster positive relationships with consumers and media.
---
Regardless of which platform you choose, utilising them in your social media strategy can do wonders for your brand image and ultimately help to drive sales. If you are looking for some help with using threads for PR or creating a social media strategy feel free to reach us at hello(@)syncpr.co and our team will be happy to get in touch!