In today's world, creating a strong online presence is essential for business growth and scalability. While social media is a rising platform for consumers to look for new products, 68% of all online activities start with a search engine. Research suggests that most people begin their search on Google. As such, leads from SEO generate more sales than traditional advertisement campaigns. Since 75% of the searchers never click beyond the first page of the results, it is important for companies to learn how search engine optimisation (SEO) works to climb up the search engine results page. 
As someone who is new to the field of Public relations and Content Marketing, SEO was definitely an unfamiliar concept to me. Thus, when the company decided to organise an SEO for Beginners workshop, which covered SEO 101 for us, I delightedly took the chance to explore what SEO entails and how it helps with PR and content marketing. 
The SEO workshop was helmed by our Digital Marketing and SEO specialist, David Bobis, who is based in Australia and works with us remotely. Rather than scaring us with complicated and technical explanations, David provided a simple yet effective formula for us to perform SEO.
Here's a quick snapshot of the highlights of the SEO workshop – SEO for beginners is for anyone keen on learning more about this essential aspect of digital marketing.
What is Search Engine Optimisation and why is it important?
The main aim of SEO is for your website to be number one on search engines, such as Google search, without paying a single cent. Needless to say, the most obvious outcomes will be gaining more traffic and public awareness for your webpage. Research has shown that 28.5% of Google users click the first organic results. Moreover, the click-through rates, ctr, for each subsequent ranking drops significantly. Hence, ranking number one on search engines automatically draws more audience to your website than your competitors.
Furthermore, with the right traffic drawn to your brand, the patronisers will be more than likely to purchase your services and products. SEO is not only about ranking first on the Google search results page but also to appear in the appropriate search. Since attracting an uninterested audience to your website will not help your brand to do better, you will need to optimise your web page carefully to rank on search results that cater to your target audience.
SEO is an indication of your attentiveness to your market. It is a hint of how fitting your brand is and how much you are willing to serve your viewers. By curating your website to rank high in "google search", it shows the audience that your brand is one of the most, if not, the most relevant to their search.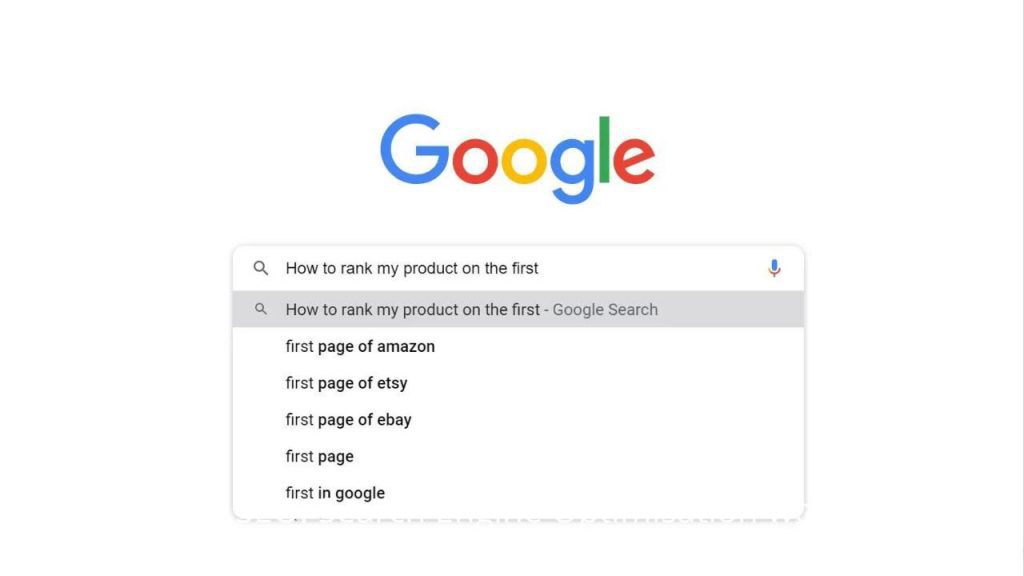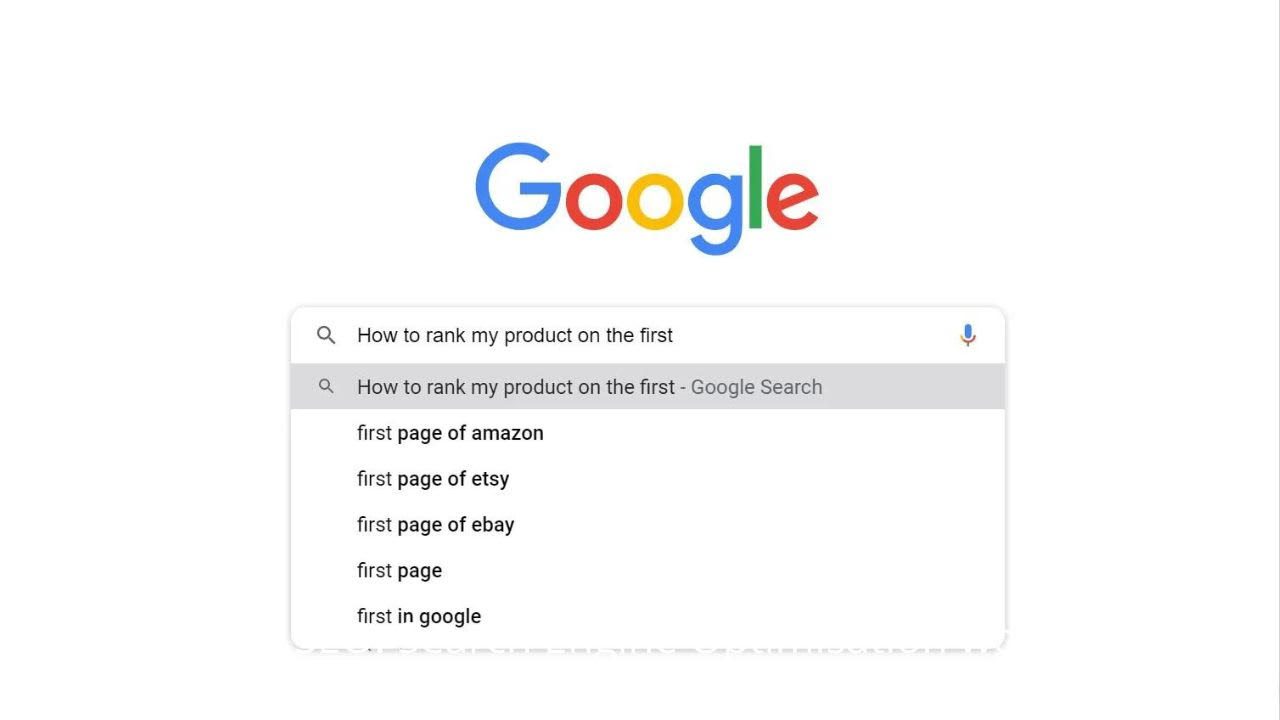 Lastly, SEO can help you to identify the market situation at that time. By knowing the online trends and discussions, you will be able to guess where the consumers are heading. The popularity of each keyword hints at the market situation that can be relied on in curating your next content or sales product. Through the click-in rates, people's preferences can also be noticed. With this information, you can avoid exploring content or products that not many consumers are interested in, saving you some time and costs which otherwise you might incur from experimenting with the market through finalised products.
SEO is also one of the top 5 digital marketing trends in Singapore.
Next, how do I perform SEO on my website?
#1: Keywords in SEO
The crucial ingredient to optimising your website is to choose the right keywords and use them appropriately. Keywords are simply the things that people are searching for. For example, "the best movie in 2022" or "the cheapest flight to Singapore" are some keywords that online users look out for. More importantly, keywords represent market interest and directions. The most popular keywords are usually the topics that consumers are focusing on.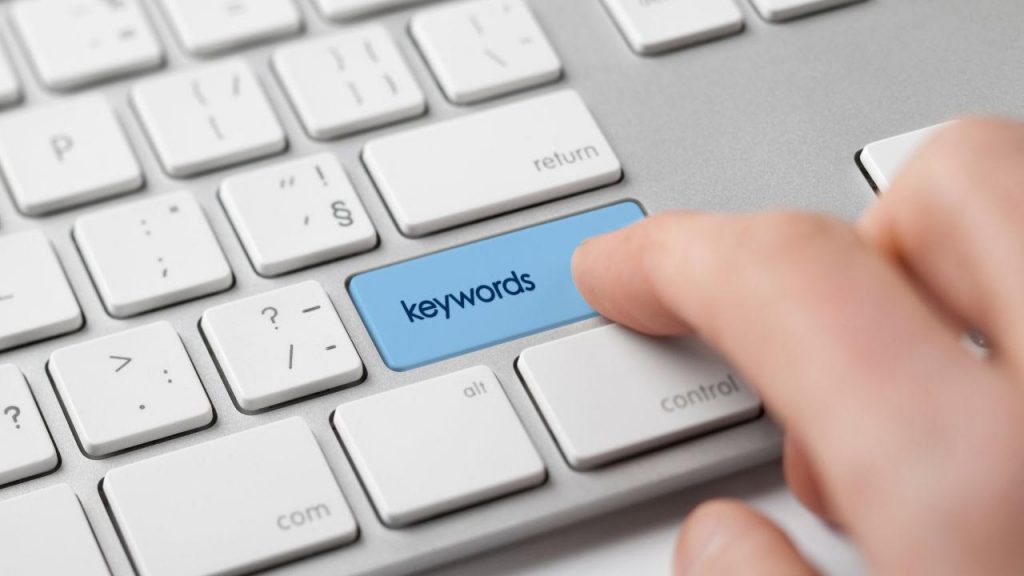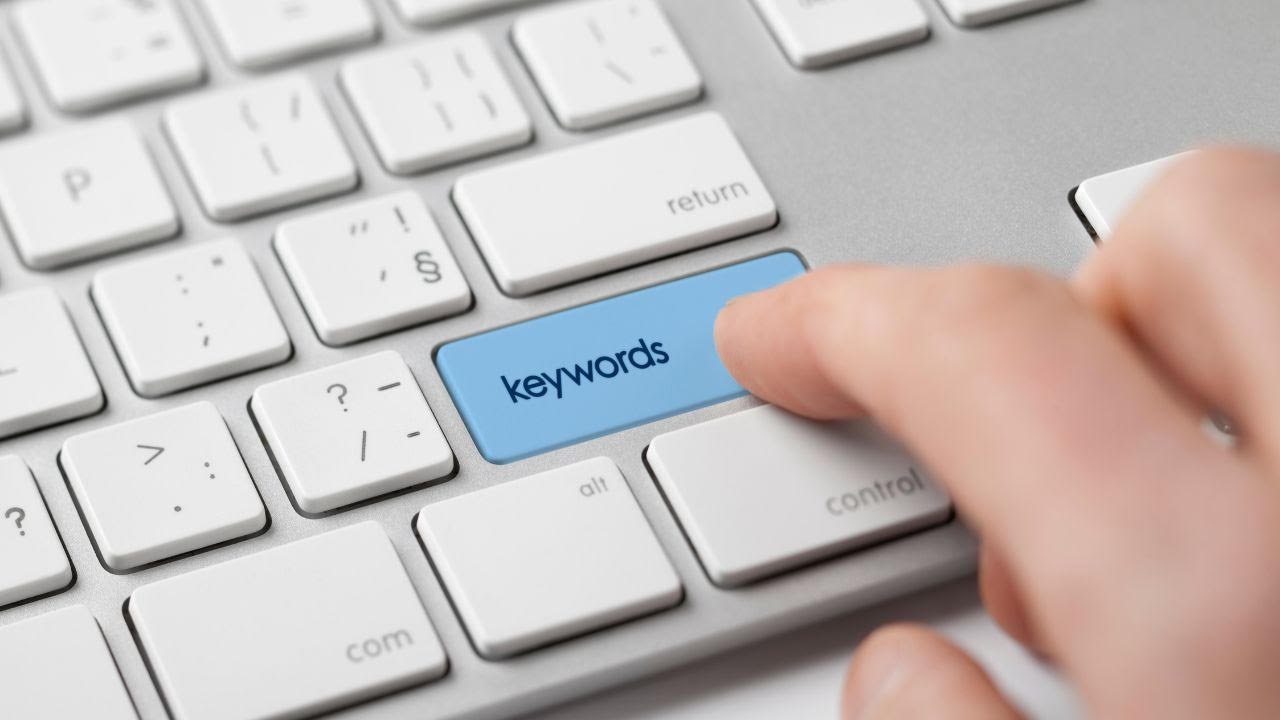 However, do note that not all keywords are helpful for your brand. Choose target-specific keywords so that you face less competition and your webpage will appear more relevant to your target audience. As search engines optimise their search results page through the keywords used in the websites, a general and broad term will not help your brand to appear in your specific audience. To illustrate, suppose that you specialise in ladies' formal wear, it will be better for you to focus your keywords on "ladies' formal wear" than "ladies' fashion".  "Ladies' fashion" is a general term that will land your website in a mountain of competition. Moreover, the consumers might not be looking for formal wear clothes. Thus, it is inefficient and ineffective to choose a vague keyword but rather, pick one that caters to your target audience. 
Some online SEO tools recommended to help you start
Other than the relevance of your keywords, you should also select the keywords that have been searched the most. Not everyone thinks the same so there will be a variety of ways to word the same product. Notably, you can use tools such as Google Keyword Planner, Ubersuggest, Google Trend or Buzzsumo to help you shortlist your keywords. 
Google Keyword Planner tells you the data of the keywords such as the average monthly searches of a keyword, the 3-month change, competition of that keyword and even the bidding price of the keyword. It is extremely accurate since it came directly from the search engine, Google's, statistics. However, you will need to create an account to start researching on this platform.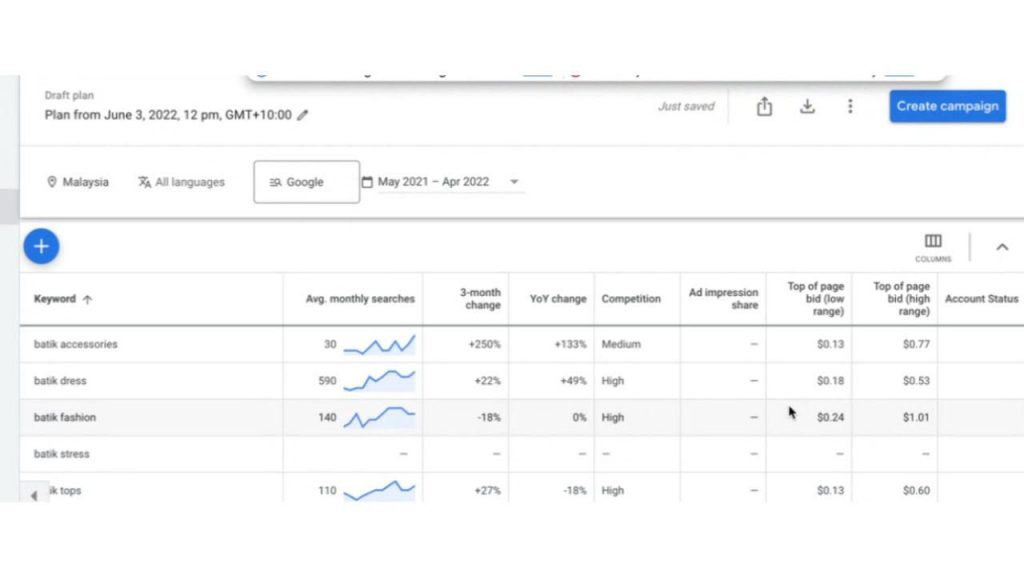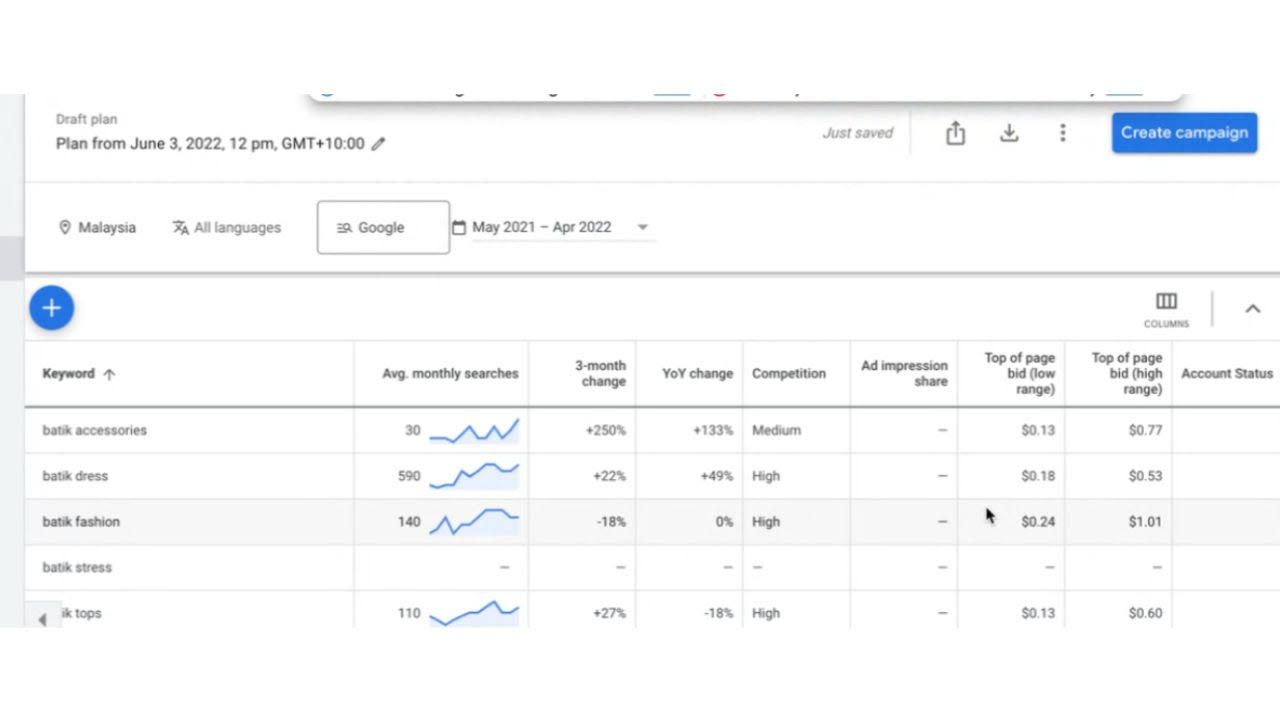 Next, Ubersuggest is similar to Google Keyword Planner. Notably, it is not as accurate as of the latter but helpful for quick searches. It is easy to navigate— you can start using it without creating an account. Ubersuggest also shows the volume of searches of the keywords, cost per click and SEO difficulty.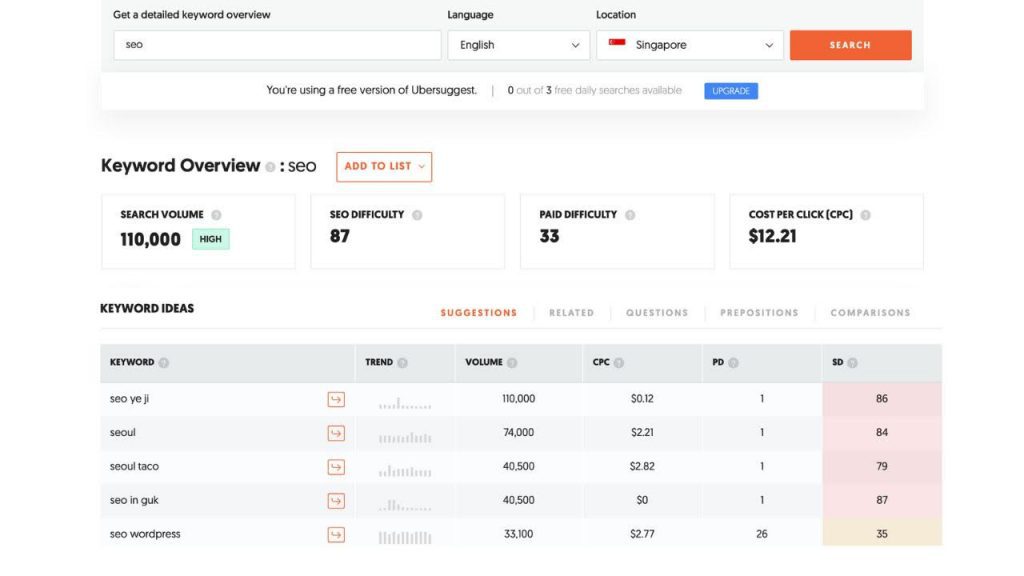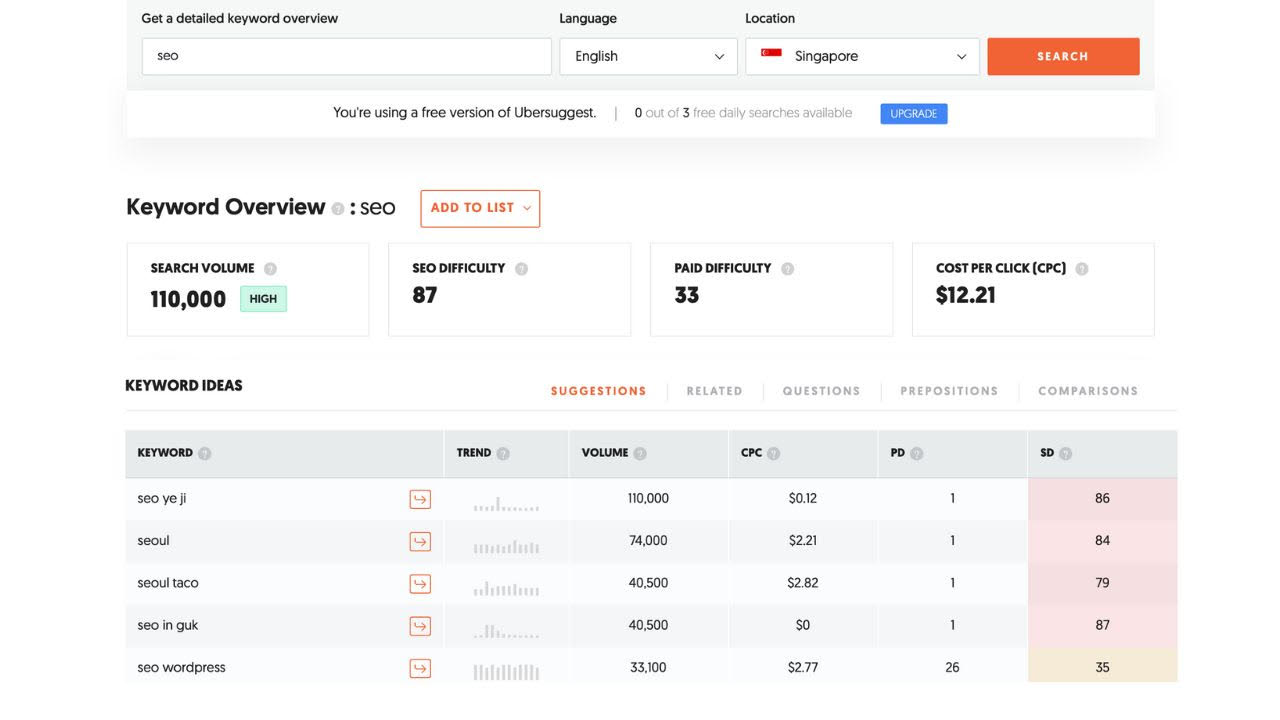 Moving on, Google Trend tells you the trending topics and queries on the search engine. It is simple to use— choose your targeted country and then your focus keywords. However, google trend statistics are based on relativity instead of raw numbers.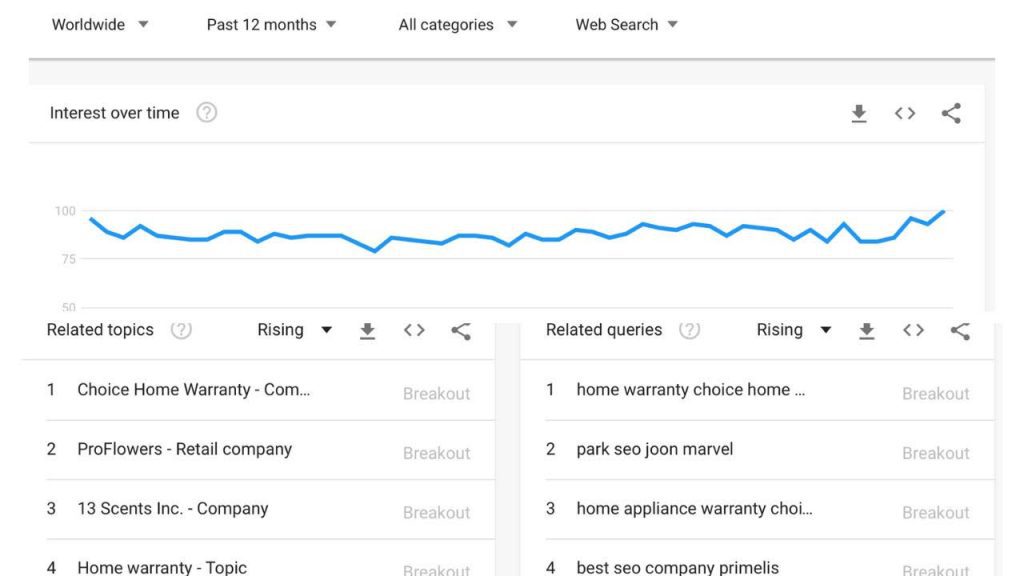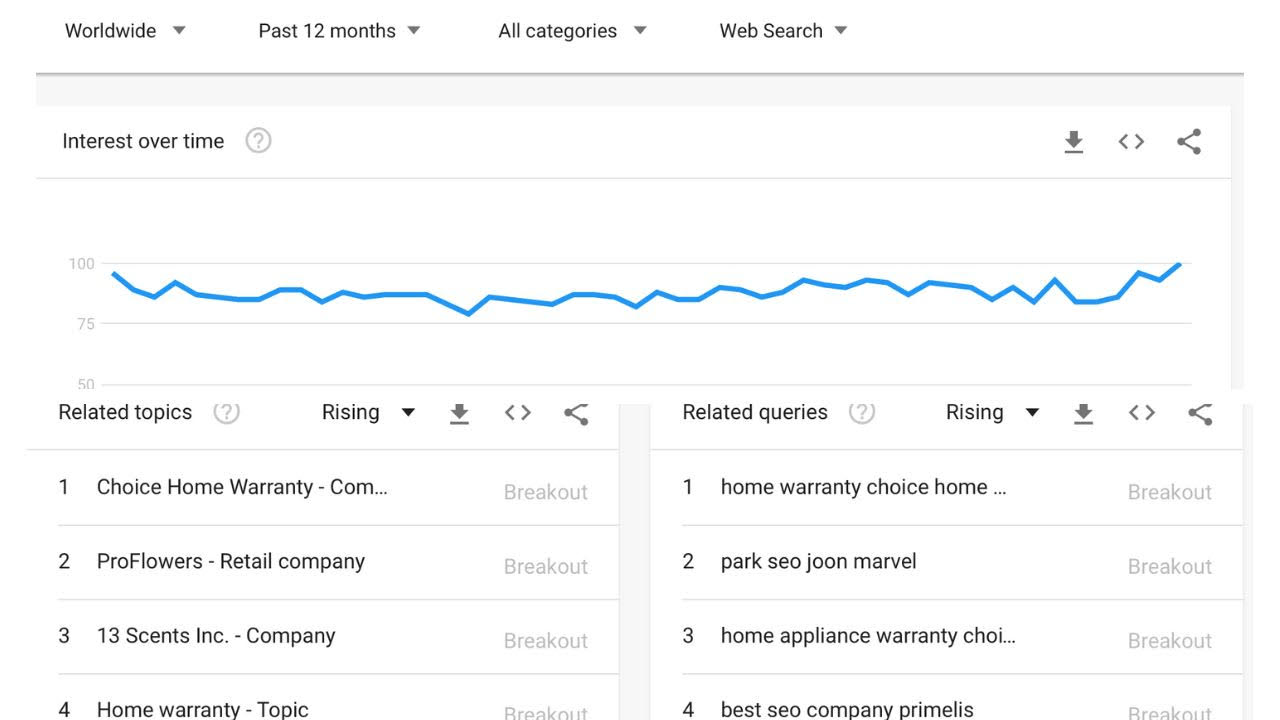 Finally, Buzzsumo gives a stronger idea of people's interests. It provides statistics of searches and discussions among social media platforms. An equally simple platform as the previous ones, you can choose to use any of the above-suggested engines based on your preferences and needs.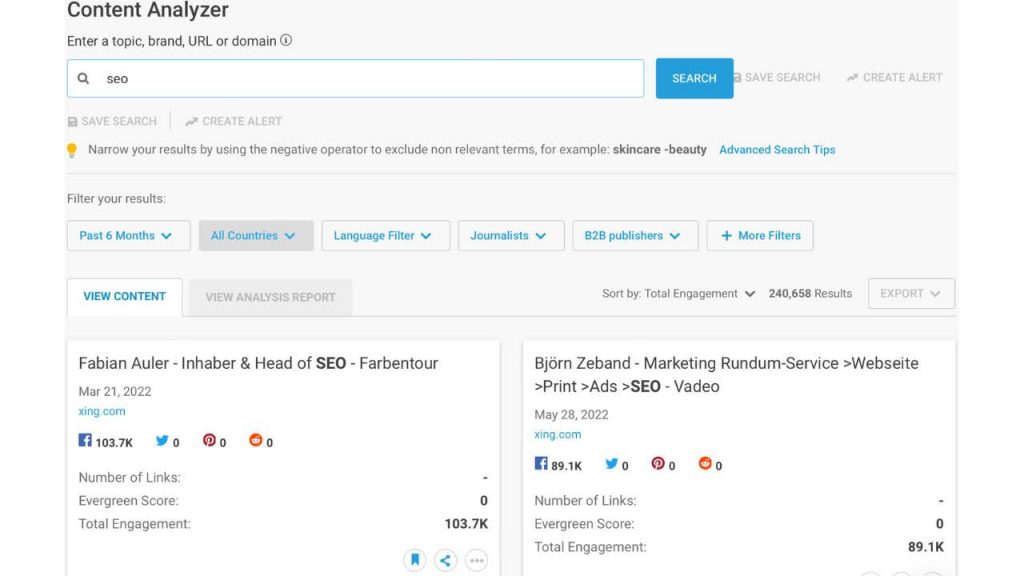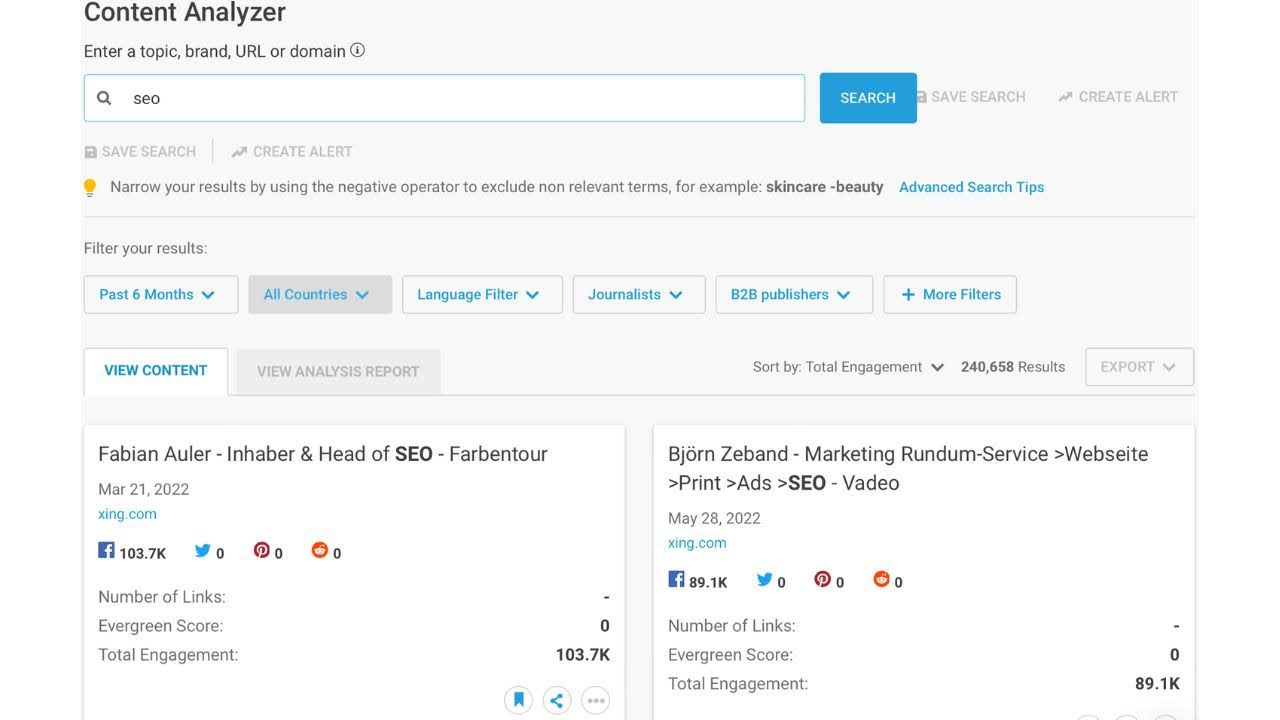 You should shortlist a few keywords to interweave into your websites. If your keywords are repeated too many times, search engines will deem it as keyword stuffing and rank your webpage lower, or even remove it completely. Therefore, you should have a few phrases and insert them interchangeably to optimise your brand smartly for search engines. They can be classified as primary or secondary keywords. Primary keywords will be focused on the most while secondary keyword phrases can be in subheadings and interweaved to avoid keyword stuffing.
Here are some SEO tricks David shared from his experiences working with multiple clients across APAC:
Switch between a few engines to get new keyword ideas as the same engine will provide you with the same combination of keywords within a short time. 
Do some competitor's research— compete by knowing their keywords. Since you are for the same consumers, feel free to learn the popular and efficient keywords that they are implementing on their websites. 
These are easy-to-follow SEO for beginner tips that we share during our SEO workshop.
Where should I put my keywords?
There are a few essential places on your webpage to insert the keywords to rank higher. Most importantly, the title of the page must contain your keywords. Ideally, name the page according to the keywords you want to rank first for. Subsequently, insert your keywords at the top of the page, in the first and last paragraphs and scatter them around the webpage in some of the headings. Not to forget, you should rename your image files to contain your keywords to rank higher as well. Instead of "download-100622.jpg", "best-places-to-travel-in-2022.jpg" will perform better on search engines.
Google tends to prioritise title and meta tags, followed by headings and subheadings, then keywords in the first and last paragraphs and keywords in image files. Hence, these are essential parts of the webpage to include your keywords. To illustrate, this is an example of inserting the keyword "batik dress" into your webpage as you perform your SEO.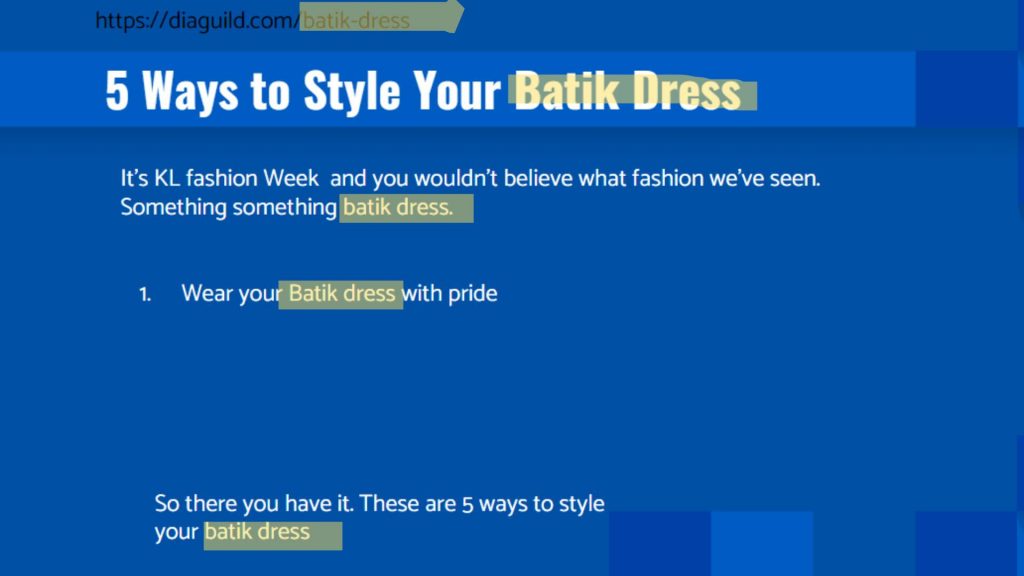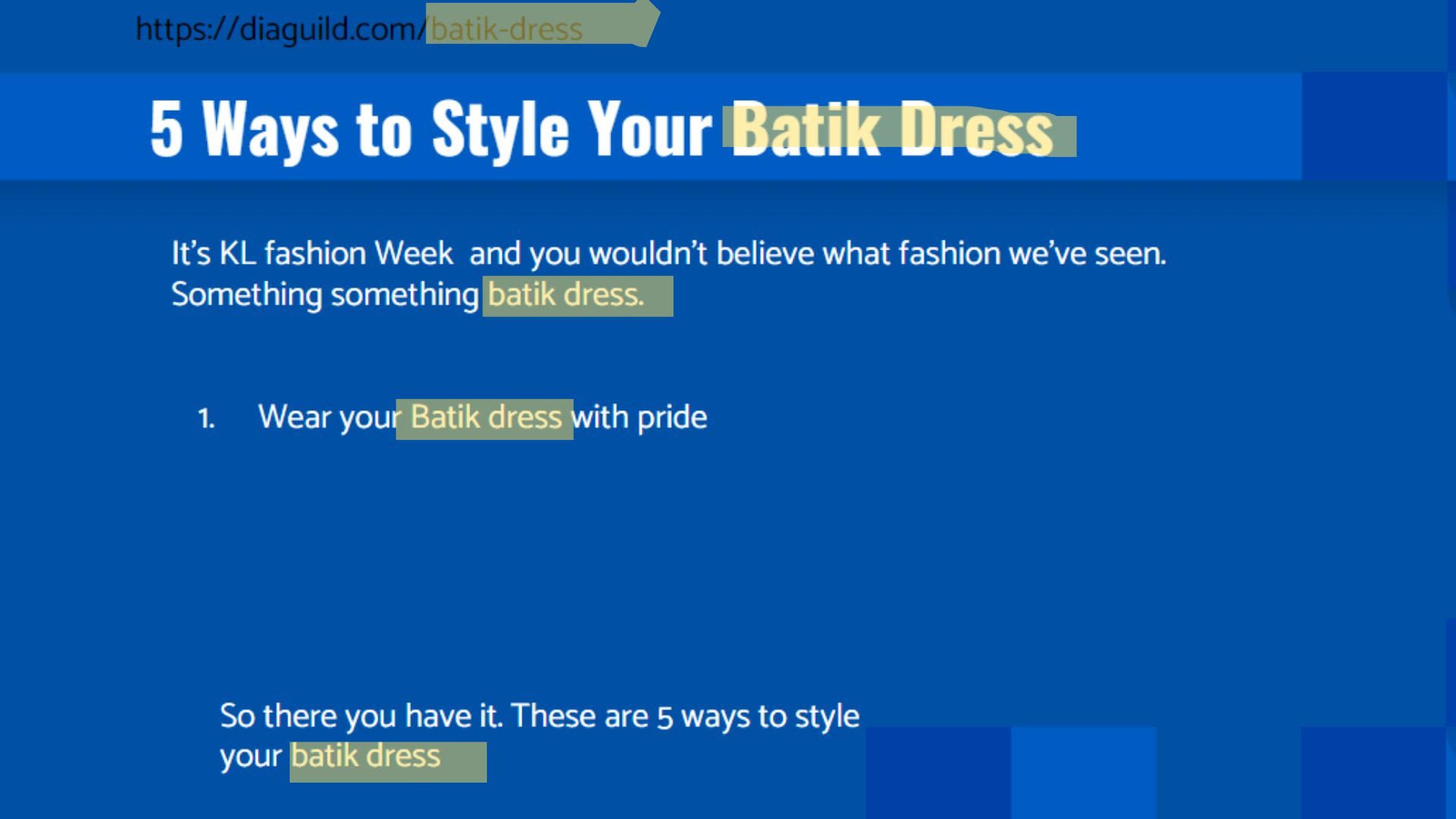 At this step, you will be 50-90% done with SEO. Remember, it takes time for the website to start ranking in search engines, simple steps do not mean they cannot produce fantastic results.
#2: Link building
Now that you are done with keywords, let's move on to link building. Search engines, especially Google, take into account the linkings of the webpage. When there are more links built to network back to your website, your webpage will be analysed as even more relevant to the keywords.
There are mainly four types of linkages, listed in order of importance:
Internal Links
Social Media Links
External Links
Public Relation/ Sponsorships links
Internal Links
Internal linkings are links within your webpage. They are the easiest links to obtain. You can include anchor texts in the links and direct your audience to the specific referenced segment of the page. As seen above. 
Social Media Links
Social Media links are references posted on social media platforms that drive traffic to your content. Although they do not necessarily directly help with SEO, they are publicity for your website and increase awareness and search engine searches.
External Links
External links come from references from other platforms to your website. It can be as simple as referencing statistics from your company's report in other web page articles. You can create more content to link to one another.  Backlinks are important and we go into depth during our SEO workshop.
PR/ Sponsorship links
Whenever your company sponsors charities, schools or events, you can request for them to link to your website to boost traffic and link buildings for SEO. Furthermore, if you feature or interview someone with your webpage, encourage them to share!
These are some of the key essential steps for starting with SEO. They are simple and easy to follow and they work like magic. Avoid being too fanciful, stick to the basic structure and you will be able to leverage SEO to rank better on Google!
Interested to read more? We also have a detailed guide for SEO beginners here.
Want to learn more about branding, PR and content marketing? Drop us a line at [email protected]