Media convergence is now. Even established brands like Singtel are struggling to find ways to position themselves in the transformed landscape better. As communications, computing, and content intertwine in the Internet Age, the world of marketing and PR has also been affected.
Altimeter published a study, coining the term "converged media" to describe a media strategy that would come to be crucial for marketing in the digital age.
But, what is converged media, and what does it have to do with your brand strategy? In this article, we run through the essentials you need to know to get started.
What is converged media?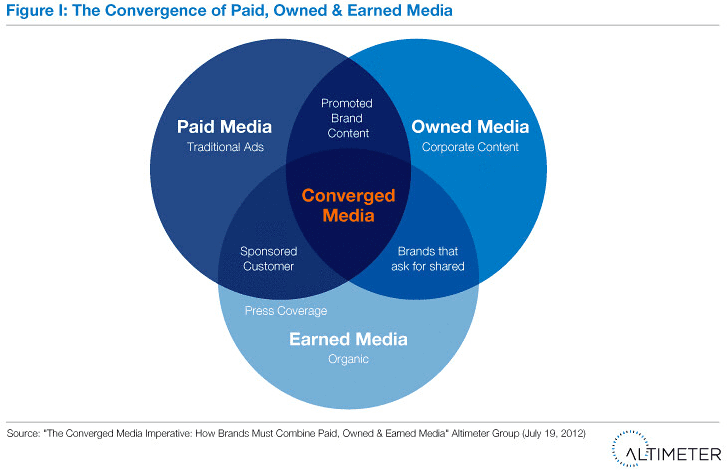 To begin with, let us learn about the types of media. There are three types of media in marketing: Owned, paid, and earned. Owned media refers to corporate content that your brand owns. This includes the website copy, logo, blog posts, and infographics. This is where content marketing strategy comes in.
Learn about content resources that every startup should use.
Secondly, there is the paid content, such as advertising and sponsorships. Lastly, publicity gained through promotional efforts other than paid advertising comes under earned media. This includes word-of-mouth, press coverage, and social media shares.
Converged media is a media strategy that combines the above to deliver a clear and cohesive message across all channels for your brand.
Why care about converged media?
Today, consumers are growing savvier about how they get information instead of just relying on what advertisers feed them.
Facebook is a stark example of this sort of convergence. On Facebook, we can see owned media, like a brand's self-curated Facebook page. Secondly, there is paid media, like ads and boosted posts. And, finally, there is earned media– the unpaid-for posts, shares, and reviews.
Learn about the evolution of how consumers digest content.
Now, consumers are less likely to take any message on a single channel as the gospel truth. They can easily cross-check it with other available references. Hence, focusing on one type of media alone at the expense of others could result in inconsistent messaging, and loss of consumer trust. Conversely, employing a converged media strategy can build consumer trust and advocacy, and amplify your reach.
Read about what consistency means for successful branding.
Where to begin?
Here are some simple, quick tips on how to start with converged media that don't require a suite of tools:
First, align all your channels to deliver a consistent message. The social team is at the nexus of media convergence. They are often the first to catalyze the change towards a converged media strategy. Ensure that teams working on other channels are aware of the content strategy. All sides need to have a clear idea of the brand message.
Moving forward, get your audience involved. One of the most effective forms of advertising is word-of-mouth. People are more likely to trust another person than a distant and impersonal "brand". And, in the world of converged media, the opinions of other people are right at their fingertips. Boost your reach by producing engaging content and earn grab attention by getting your audience to share your paid, earned and owned media.
Recap: Letting customers do the marketing for you
What's next?
Converged media is just the beginning. The marketing and PR industry will continue to evolve.
If you're curious to learn more about public relations or want to speak to a SYNC consultant about starting your brand's PR journey, contact us at [email protected].
Last updated 2 June 2020