Marketing your brand requires an extensive understanding of your audience to personalise your strategies and tactics to best attract your target market, and that means a clear understanding of B2B vs B2C marketing. It is important that B2B and B2C companies have different ways of marketing their businesses. While their different approaches to marketing may not be revolutionary or groundbreaking, they show an exemplary pattern of how to address the different goals of either business model. But how different are these strategies, and can they converge and benefit the other?
In this article, we will be discussing the differences between B2B vs B2C marketing and how they serve to optimise their respective business goals. 
Exploring different types of companies to understand B2B vs B2C Marketing
The terms B2B and B2C are some of the most commonly used in the business world. For those unacquainted, B2B stands for business-to-business and is a term that refers to companies that offer products, services and solutions to other businesses to improve internal processes or solve business problems on a larger scale.
On the other hand, B2C means business-to-consumer, referring to businesses that sell a larger offering of products directly to end consumers. While some businesses do intersect and offer both B2B and B2C services, these distinctions help us to understand why it is important to recognise the type of service to consider the following aspects in particular:
Target market
The end goal of marketing campaigns
Sales lifecycle
Marketing tactics and strategies
Customer relationship management
B2B vs B2C Marketing: Understanding different target audiences
As B2B companies offer their solutions to other businesses, their marketing strategies often target decision-makers and higher-level executives, oftentimes in niche markets which require a higher level of knowledge and more specialised expertise. Other than that, their clientele is often made up of long-term and returning customers, and their business models are commonly reliant on referrals and recommendations from past clients. It is also necessary to note that B2B buyers normally are not the direct users of the purchased product, as they are buying a solution on behalf of the company to solve a company-wide problem. 
Conversely, B2C businesses target individuals rather than a larger collective or company. As they cater to end consumers of the product, their offerings are often wider in range and address the common everyday needs of their target market at a lower price in comparison to B2B products or services. On top of that, their consumers are, more often than not, one-off buyers, although many B2C businesses have started to incorporate better customer retention strategies by prioritising community and brand loyalty in recent years.
Read 5 common marketing misconceptions that Singapore founders often make
B2B vs B2C Marketing: Sales lifecycles
Understanding the target market and their needs also shows how different their sales and marketing funnels look. The B2B marketing process is often much longer and requires more patience and engagement with the potential buyer than the B2C marketing process. B2B marketing generally involves multiple pitches and meetings, and extensive research on the buyer's side due to the high stakes and high value that is to be invested in a B2B purchase. In order to justify a large purchase for the company, potential buyers of a B2B business need to be convinced with data and facts to make the right decision. On top of that, the buying process is also extended due to the long chain of command in B2B companies. However, the long buying process is commonly justified due to the longer length of the purchase contract with the company as the vendor is expected to provide the necessary technical support that comes with the product purchase.
On the other hand, the B2C sales funnel is much more simplistic and linear. As B2C customers are customarily individuals – or a household, at most – the purchasing process does not require going through several levels of consideration as there is no chain of command to follow. On top of that, B2C products that target the common end consumer are cheaper, which also eases the decision-making process and buying journey. Hence, these businesses do not require one-on-one time with their larger pool of customers, which helps to simplify their sales funnel further.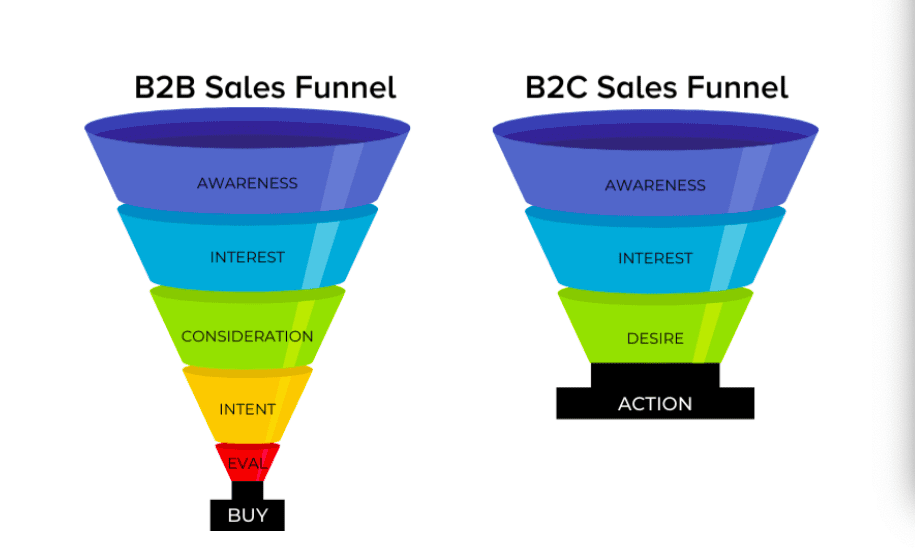 (source: VMG Studios)
The end goal of marketing campaigns
To understand B2B vs B2C marketing better, it is crucial to understand that while both B2B and B2C businesses in general want their marketing campaigns to add to the bottom line, their specific goals may be slightly different from one another. With B2B marketing, the idea is to generate leads, comprised of any interests or interaction with the brand that can lead to a potential customer in the future. Leads can include inquiries, requests for a meeting, as well as any downloads of materials from your website. On top of that, B2B marketing also aims to demonstrate to their potential buyers their shared values and ethics to establish rapport, while also illustrating how their services are valuable with attractive ROI.
Meanwhile, B2C marketing focuses more on appealing to the emotions and sentiments of their potential customers. As their buyers are more emotional, the marketing campaigns also aim to equip the buyer with the self-sufficiency to complete their purchase as smoothly as possible, while aiming for the highest visibility and traffic possible. On top of that, recent years have shown that end consumers have been more receptive to brands that share similar values, hence brand loyalty and community sentiment have also become a priority to increase engagement and eventual sales.
Read Top marketing strategies online loan providers use to attract customers
Marketing tactics and strategies
Another key thing to understand when exploring B2B vs B2C marketing is that to fulfil marketing goals, B2B marketing often involves factual and informational content that can help prospective buyers learn about their problems and their potential solutions. This means that vendors often come from a place of authority in the niche industry to show their understanding of the subject matter in order to gain the trust of their prospective buyers. Unlike B2C marketing, B2B marketing is often encouraged to use the language and jargon in their niche industry for this very reason. On top of that, as their customers need rational and data-driven input to make their decisions, B2B marketing is also logically driven. These B2B vendors rely on hard data in order to market to others and pinpoint their customers' gaps and weaknesses in their business process. With the right data to back their claims, they can show their leads how they can improve or solve the issue. 
B2C marketing, on the other hand, is more concerned with creating memorable campaign messages to leave a lasting impression on their audience and prospective customers. As their marketing campaigns tend to prioritise staying on trend and gaining as much visibility as possible, their marketing campaigns commonly have much shorter lifecycles to keep up with the next big thing. B2C marketing is known for making use of public sentiment to attract more interest. They are also focused on driving traffic to their websites in order to funnel sales and are attuned to the customer experience on their website.
Building customer relationships
As discussed earlier, B2B marketing often requires a longer process of developing good customer relationships through pitches and meetings, commonly done in person, in order to establish rapport and gain trust. Hence, B2B customers have a more long-term relationship with their vendors, requiring continuous support in adopting the product or service.
Asserting a sense of authority over the subject matter is also essential to the dynamic of the relationship, as vendors need to maintain a sense of value added to their buyers. Preserving this relationship is of high priority for the longevity and success of the business. Meanwhile, B2C customers look for relatability, community and a sense of entertainment. Due to this, their communications with the business tend to be more relaxed, with less pressure on the companies to be a dedicated expert to guide them through their purchases. 
With all these key differences between B2B vs B2C marketing in mind, you should be able to develop a clearer marketing strategy for your business. If you are looking to delve into content marketing and PR to boost your brand awareness, send us an email at hello(a)syncpr.co to see how we can help you.