ExpertRA offers a local-developed solution by, generating customised risk assessment and bizSAFE documents related to an organisation's industry within a day
ExpertRA has been developed by Advanced Consultancy, a business consulting firm recognised by Enterprise Singapore, which has supported over 1200 businesses over the last decade
Singapore-based innovative platform, ExpertRA, officially launches into the market after successfully supporting more than 1000 Small and Medium Enterprises (SMEs) manage their bizSAFE documentation and risk assessments in compliance with current regulations. By leveraging expert knowledge and a comprehensive database that is regularly updated across over 30 industries, the software tailors processes and risks based on the company's industry, making it easy for even first-time entrepreneurs to submit their documentation without a third-party consultant. 
Workplace fatalities and injuries driving a heightened need for workplace safety and bizSAFE certification
Last year, the fatality rate was 1.3 per 100,000 workers with a total of 46 worker deaths while the rate of employees who experienced major injuries increased from 16.8 per 100,000 workers to 18.7. As of late February 2023, there were already four workplace deaths. 
Due to this, there has been a greater emphasis on workplace safety and health (WSH) regulations for all companies. With the Ministry of Manpower extending the period of heightened safety till the end of May, it is increasingly important for employers to ensure they are meeting WSH guidelines.
"The spate of workplace casualties and injuries, while accidental, are often due to safety lapses and non-compliance with safety regulations. Employers have a responsibility for the safety of their employees and thus need to ensure the key safety processes and procedures are in place to prevent or at least reduce the chances of such accidents happening. However, to get started on that journey can be onerous – requiring one to attain bizSAFE certification as well as ensuring the processes and measures are appropriately implemented," comments CEO of ExpertRA, Chris Chen.
While bizSAFE certification is not mandatory, unlike the Risk Assessment that companies have to submit upon incorporation, it is strongly recommended to have the certification, especially as it can make it easier for businesses to be awarded tenders and sales while ensuring that the companies build workplace safety and health capabilities.
However, the process to acquire the certification can be daunting and time-consuming, taking approximately 2-4 weeks. Additionally, in order for the certification to remain valid, businesses need to renew their certification after 3 years. When the time comes for renewal, businesses oftentimes misplace the documents and have to scramble to find them or simply opt to re-do them.
Local-made solutions leveraging technology and expert knowledge of established consultants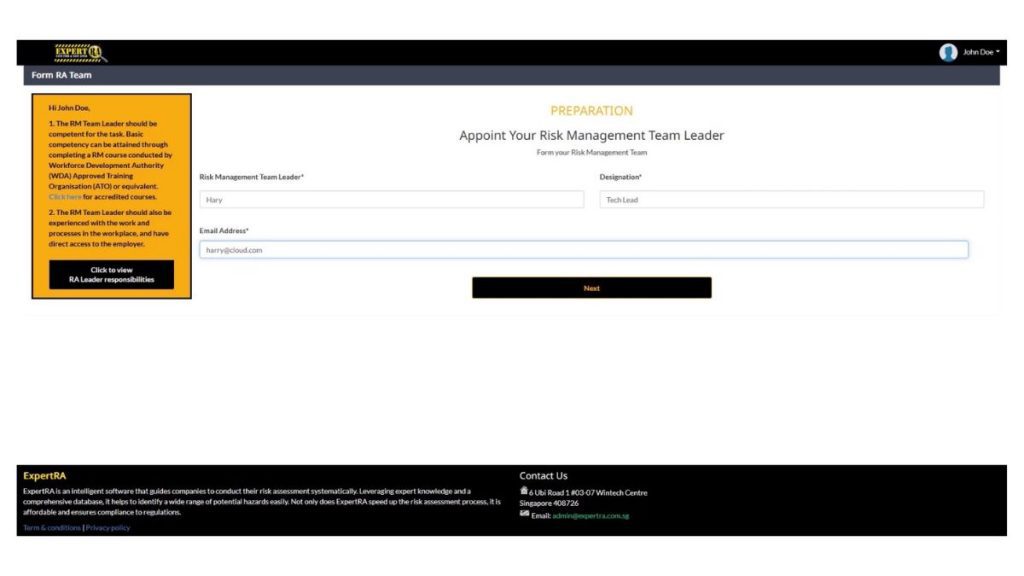 Though digitalisation has been a hot topic for the last few years, the actual practical application can be lacking, especially when it comes to documentation for SMEs. Given the tedious process of managing the paperwork and documents for one's bizSAFE application or even their risk assessment documents, going digital might be the only way to reduce the barrier for companies to attain the necessary certification.
To address this need, ExpertRA was designed to help companies streamline their compliance processes, making it easier for business owners to submit their documents with ease and minimal fuss. Once they have selected their industry, the platform is able to generate the documents covering over 100 processes, 300 work activities, 200 hazards and 900 risk control measures, interactively guiding them step-by-step through all the necessary requirements tailored to their specific industry, ensuring that they do not miss out on any steps.
Additionally, because all information is stored within the system, companies can rest assured that they would not have to go through the whole process from scratch when they renew their certification years down the line while making it convenient for them to retrieve and edit as they need to.
ExpertRA was developed by Advanced Consultancy, a leading business consultancy firm recognised by Enterprise Singapore. Their team of certified & experienced management consultants have helped over 1200 SMEs across various industries scale their businesses and they wanted to be able to offer their clients an easy and affordable solution and empower them to kick-start their journey of safe workplaces.
"At ExpertRA, we remain committed to providing an innovative solution that helps our clients solve the hassle of applying for their certification while keeping their documents up to date based on the latest regulations for their industry. Having a bizSAFE certification can substantially aid the company's credibility, reputation and sales. But to help companies attain that certification, we developed the platform to be an affordable and efficient option to achieve their business goals without the need to outsource to an external consultant and cutting down the time needed to complete the documentation to 1 day from the usual period of 2 weeks," Chris adds. 
About ExpertRA
ExpertRA is an intelligent software that guides companies to generate their bizSAFE documents and conduct their risk assessment systematically. Leveraging expert knowledge and a comprehensive database, the platform helps to identify a wide range of potential hazards easily. Not only does ExpertRA speed up the risk assessment process, but it is also affordable and ensures compliance with regulations.
---
If you need public relations in Singapore, we can help support your growth as a business. We have an experienced team of consultants, content developers and creatives to help you scale your company. The team has extensive experience in helping SMEs and startups develop the important key messages for the brand and communicate them through the press release.
You can see other press releases we have written and/or disseminated by referring to our page of SYNC press releases.