Doing a corporate video is something that most brands felt they had to do rather than as a strategic marketing tool or educational content that can be used for sales, hiring, community building or even employee engagement. Developing an awesome corporate video does wonders in attracting talent and customers.
But it isn't as easy as filming something on your smartphone and uploading it on Facebook. Conceptualizing and developing a proper narrative within your video is critical. This is why you need to plan and develop the concept of the video before you start.
READ MORE: 8 tips for good video editing by a video editor for your Singapore business
Understanding what you are using the video for is critical as well,
What is a corporate video?
The term "corporate video" refers to all video communications used for internal or external corporate messaging. The target audience is one-way corporate video differs from traditional video advertising. Corporate videos are frequently targeted at a specific audience rather than the general public.
A corporate video may be created to present financial results to stakeholders or to highlight a new company initiative. Employee training videos and promotional videos for new product lines or services are examples of corporate videos.
In recent times, corporate videos are used as a marketing tool as well, but rather than developing a clear ad that pushes a product or service, if done right, a corporate video helps you push your brand. In fact, many modern corporate videos incorporate their product and service into the brand without trying to oversell, so it can double up as an advertisement too. This is why great corporate video production and planning come into play.
The above example from Sandwich video is a great example of how you can make an interesting video that's focused on the product but isn't an over-the-top ad.
What are the different types of corporate videos?
You may not be aware of this, but there are actually many types of corporate videos that do different things.
The promotional video
Promotional videos are used to highlight a specific corporate initiative, product or service. A great example of this would be the work we did for Gevme to introduce their new innovations around events technology and develop principles for the industry.
Training videos
Training videos are used for everything from onboarding new hires to health and safety training and employee upskilling. Training videos have become an extremely popular method of training staff, often at a lower cost than in-person training. One of the benefits of training videos is that they can be shot once but shown to multiple audiences.
Internal communication
Internal communication videos are used to communicate information to employees throughout an organisation. This could be to announce the most recent financial results or to inform them about internal company changes. Video can be very effective for internal communications because it can convey a lot of information in a concise and entertaining manner.
CSR
Corporate social responsibility is a relatively new area of corporate video. Corporations are becoming increasingly involved in social initiatives that benefit society.
Conference videos
Conference videos are produced to inform attendees of corporate events. Videos created for conferences can be shown during presentations, in trade booths, or in other areas throughout the conference venue. A great example of this is the WiT and GEVME video that was played at their hybrid event.
We can develop all these videos, but corporate video production focused on building your brand and scaling up is where we excel. That's why we are focusing on promotional videos because that is where we see them being an effective growth tool for any business.
How do you create a corporate video?
Corporate video production is a bit different from developing your standard social media videos or recording a podcast. We're not looking down on the other two – we do both quite regularly – but there is a reason we only have one corporate video ourselves, while we have an unreasonable number of social media videos and podcasts online.
We look at a series of stages that help develop something that really resonates with you.
Understanding what you need
We need to know what you are trying to achieve. There are a lot of issues that stem from a lack of information, so we try to understand exactly what you need. Some of the key information is as follows:
Who is your main target audience?
What type of video do you want – a sit-down talking head video, multi-location shoot, a full location shoot or do you have examples of videos that you like?
What are you trying to achieve – new business, stakeholder engagement, education?
When do you need it?
What is your budget? Video production can be a bit pricey, so we'll be very honest with you if your budget will allow you to get everything you need and want.
Developing the concept
Once that's out of the way, we go to work building out the concept of the video that works for you. We like to work with our clients on this, so we have their unique perspectives and point of view on the concept that becomes the video. This will be focused on the best way to communicate with the intended audience and achieve the video's goal.
Building your storyboard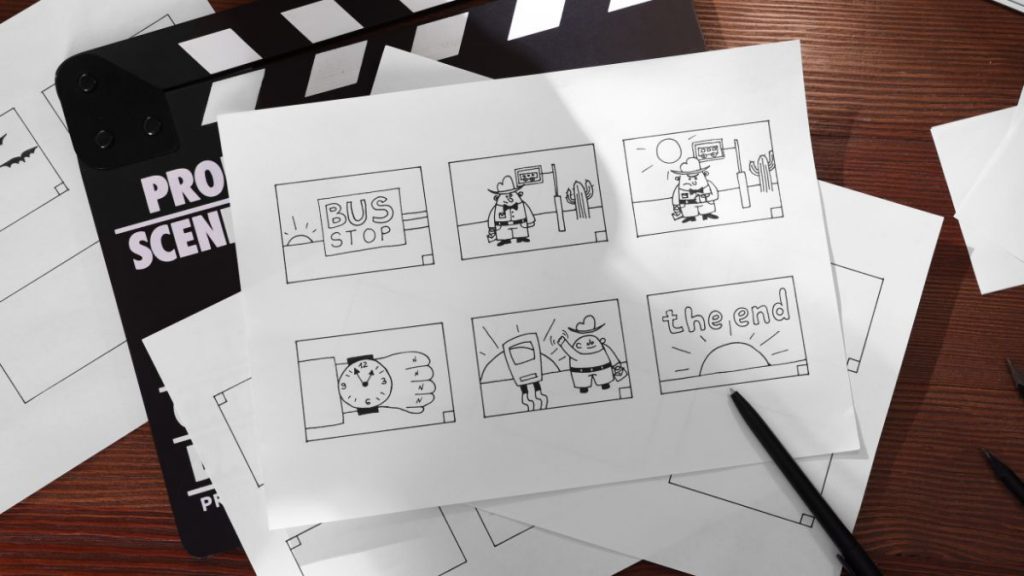 The video production company will create storyboards once the concept has been agreed upon. These are visual representations of what each of the video shots will look like. Once filming begins, storyboarding serves as a guideline for the video production company.
Storyboards are not always required. In the case of talking head interviews or filming a corporate event, a storyboard may not be required before production begins.
Planning production
Once the concept for the corporate video has been agreed upon and storyboards have been created, production planning can begin. This includes scheduling, planning shoot logistics, hiring specialised equipment, and casting actors. Timelines are critical because there must be enough time for the client to provide feedback before any promotional deadlines for the video.
Location scouting
Following that, the pre-production research phase will begin. This will usually include a reconnaissance of the filming location. This reconnaissance will be used to identify any potential issues that may interfere with the shoot, such as ambient noise, glare, or foot traffic.
This is not necessary if we're filming in a studio, which is designed to be quiet and perfect for shoots. If we are filming in an office, then we definitely need to scout the location as offices are rarely suited for film shoots.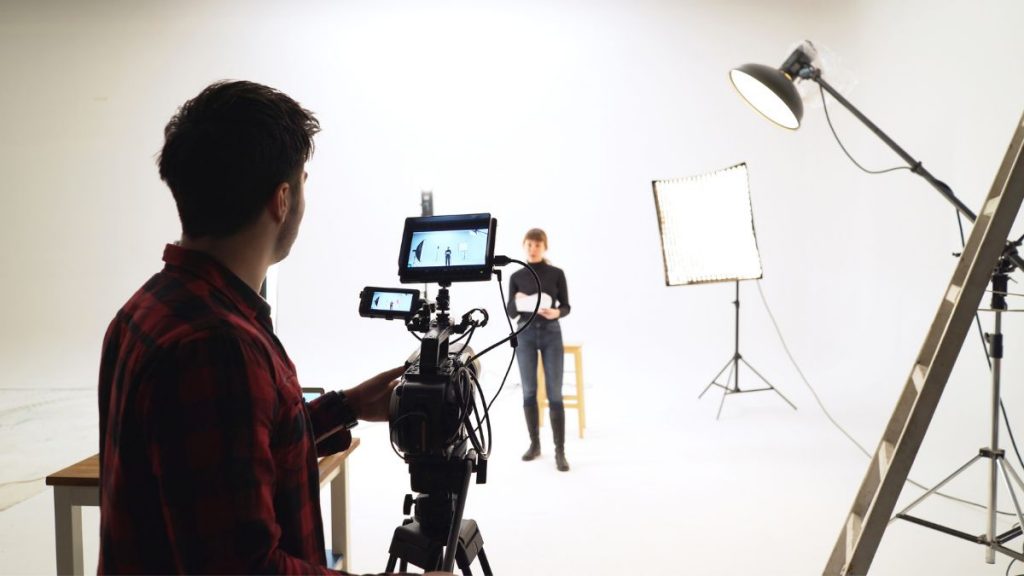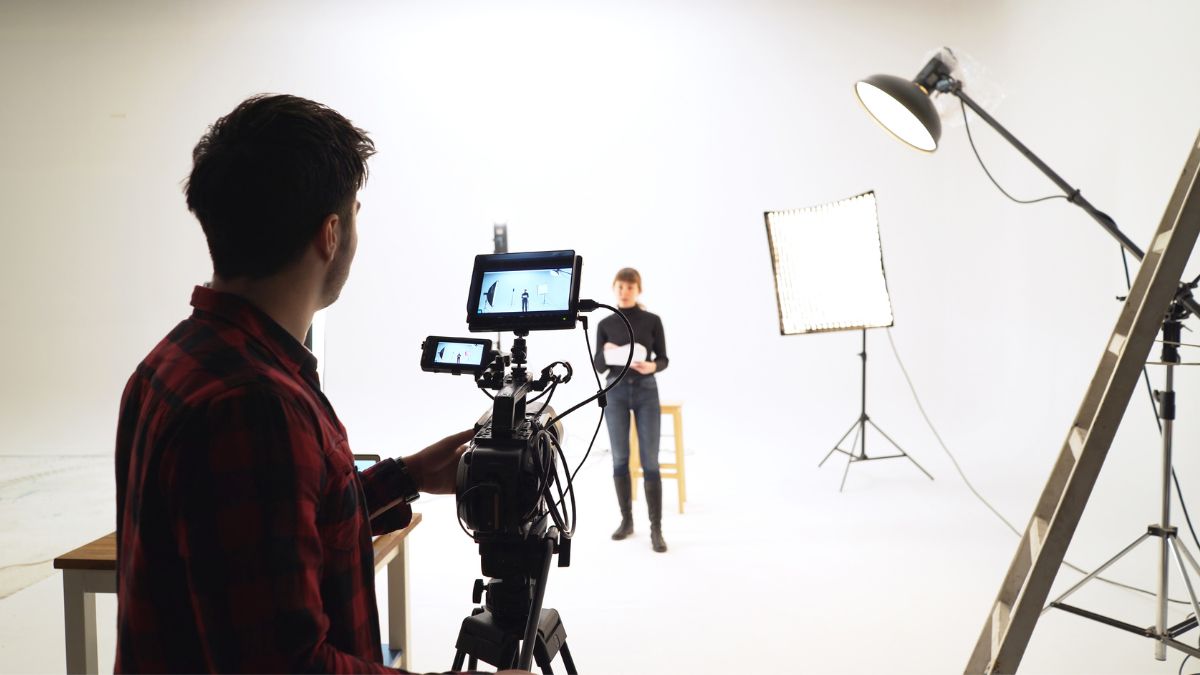 Spokesperson prep
Before you or whomever even thinks about getting in front of the camera there is a lot of prep work required. Depending on the shoot and the concept, we either provide the full script or talking points. Sometimes, we find that the best videos are driven by the person's personality, so rather than limit them with scripts or talking points, we ask questions to which we record the responses and let the session become free-flowing
Actual filming
The video production crew will usually prepare the person who will appear on camera before the cameras start rolling. This will include guidance on how to deliver the content required for the final edit. The crew will also require time to set up, including ensuring that all safety procedures are followed. The filming will begin with the use of a clapper board to sync sound. When the director is satisfied that they have everything needed, they will call cut.
Post-production and editing
The footage is transferred from the camera cards to the video drives. Backups are usually created to ensure that the footage is safe. The footage will be cut by our editors to create a first assembly. You can then provide feedback on what they would like to see in the video.
A second draft of the video will then be created. The video will be rendered in full master quality at this stage. If this works for you then, you can sign off on the final version, and the project will be finished.
Should you get a corporate video?
Corporate videos are an area of corporate communication that is rapidly evolving. New video technology and online platforms are enabling corporations to communicate with both internal and external audiences in novel ways.
READ MORE: What is social video marketing and why does it matter?
Video consumption on social media sites such as LinkedIn, Facebook and TikTok and more has increased dramatically in the last few years. These changes open up new avenues for corporations to better communicate their messages to their target audiences.
This is a great example of a corporate video developed for a brand that covers multiple angles and can be used to market, educate and develop a strong brand narrative. Konsyg is a sales-as-a-service brand that covers the whole world and works with amazing companies from everywhere.
---
If you need a great video or want us to review what you have and suggest what we think might work for you, drop us a message at hello(@)syncpr.co. One of our consultants will get back to you soon.
If you are looking for an affordable unlimited design subscription for your video thumbnails or banners for your YouTube channel, check out the link.
Note: This post contains affiliate links.