In the condensed metropolitan city that is Singapore, it isn't hard to dream big. As an entrepreneur, you could probably find a new market to target around every corner. For a couple of years, social media marketing has been a game-changer for many startups in Singapore. Paired with the right digital tools, the Lion City makes the perfect stomping ground for startups and small businesses to make their mark, and they have. 
A common strategy is for small businesses or startups in Singapore to capitalize on social media marketing. Be it on Facebook, Instagram, YouTube, Pinterest or LinkedIn, each social media platform has gathered a group of like-minded consumers in one place for you to connect with, whether you want to build your brand or grow your business. On Instagram, about 200 million users visit at least one business account daily. In 2019, 75% of businesses in the United States were projected to use Instagram this year – a good indication that small businesses and startups in Singapore are doing the same.
So what exactly is it about social media platforms like Instagram that startups love?
From having over a billion monthly users to constantly rolling out cool features like IGTV and the shopping tab, Instagram is an extremely useful aid for social media marketing, no matter the complexity. That, and is surprisingly affordable for startups who do not want to bleed out their capital on extravagant marketing campaigns.
From rookie to the unicorn, here are 4 local brands that are nailing the social media game. 
Grain
You don't have to be a health junkie to have heard of Grain. A thriving startup health food delivery service with over 21,000 followers, Grain focuses on customer well being and being honest. A quick scroll through their Instagram page shows posts including the team behind Grain and a series of "food delivery secrets" that reveal the behind-the-scenes of how they keep food fresh, and who doesn't love fresh food? Food delivery services can sometimes have an air of animosity, with pain points like food theft or stale food. Being transparent about operations can cultivate trust between a brand and its consumers. In fact, customers will willingly stay loyal to a brand that practices honesty.
Besides that, the brand often shares instructional videos. The irony of a company that makes food, telling their customers to make their own food can sometimes work wonders with its brand equity. This assures the audience that, in fact, Grain only wants the best for you, no matter how you receive it. By sharing recipes, Grain is successfully driving engagement, along with encouraging engagement with the hashtags like #weeatgrain and #cookingwithgrain.
Zenyum
Zenyum, also known as a cheaper alternative for clear aligners, loves feel-good marketing that focuses highly on "Smile" rather than practical reasons, and this is highly visible on their social media. They often feature customers and their journey towards a better smile, involving first dates, meeting their significant other or other relatable and meaningful experiences, any experience that would be better with a great smile. 
Storytelling is all the rage in the modern marketing era. Leading your campaign with a compelling story could be a stepping stone to getting your startup noticed on social media. Brand hashtags can also be a gold mine for user-generated content and tracking your audience activity – Zenyum's hashtag has over a thousand posts from customers sharing their journey with the product.
Check out How leading companies are using compelling stories to drive their brand.
The brand also isn't afraid to get creative with IGTV – one of the hottest trends in startup social media marketing right now. IGTV surpasses the IG story 24-hour display and allows for long-form videos which are perfect for raw footage and product tutorials. And as usual, bright and happy colours never hurt anyone.
Ease
Social media marketing does not always have to be about the pizazz, and that is the case for Ease – an at-home STI testing service and birth control & emergency contraception delivery service. In line with the nature of service provided, Ease focuses on empathetic content. This means calming colours, educational posts and muted fonts. 
The beauty of a platform that allows for multiple posts can mean those creators are given the freedom to curate and tailor a specific brand image over a series of posts. In this case, Ease has successfully created a safe zone cum support system for women looking for information or help. The brand has also leveraged on the highlights function to display FAQs, How It Works stories and quizzes.
With over half a billion daily active users on Instagram, brands are given the opportunity to build closer relationships with their audience. Consistency is key in your social media marketing strategy – you will always want to remind people that you are here for them.
Soul Shiok
Coined as "the first original otah buns with mackerel fish made fresh daily", Soul Shiok took the local business scene by storm when they launched during the Circuit Breaker. Albeit more of a small business than a startup in Singapore, we've included them in our list just to show that you can do as much with a conventional product. In just a few months, the account has racked up over 10,000 followers on Instagram. Admittedly, otah buns may not be the most 'Insta-worthy' or trendy looking, SoulShiok makes up for this by using bright pastel colours and intricately patterned props to create aesthetically pleasing content.
When it comes to small businesses, one of the main concerns is how to stand out among the many other brands in the market. If anything, this shows that you do not need fancy products to make a product work. Get creative with your strategy to showcase the aspects that appeal the most to your target audience.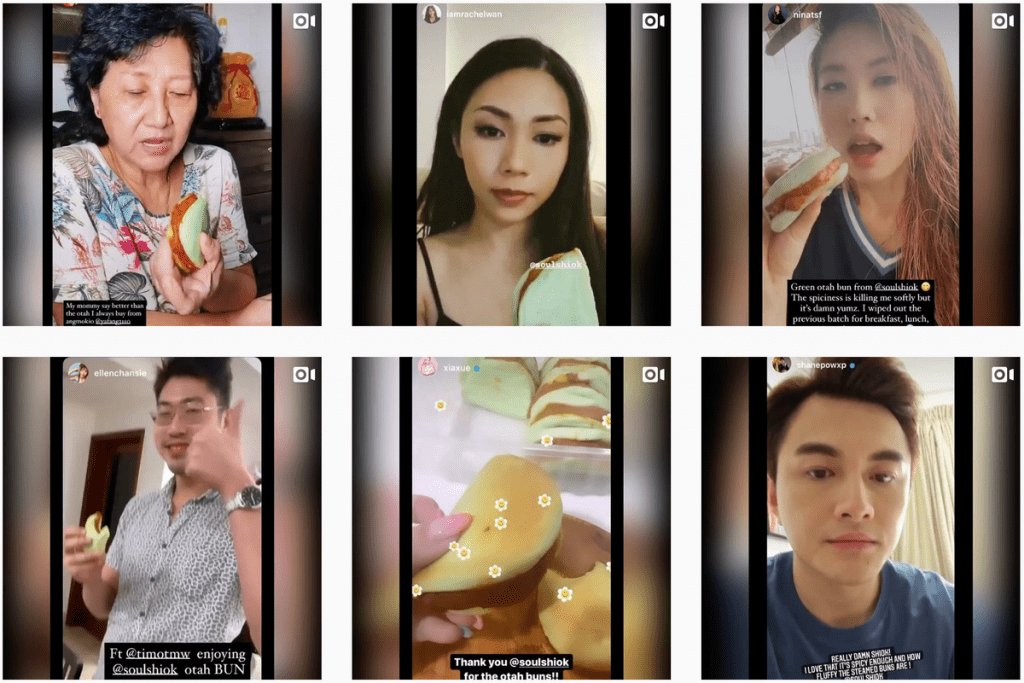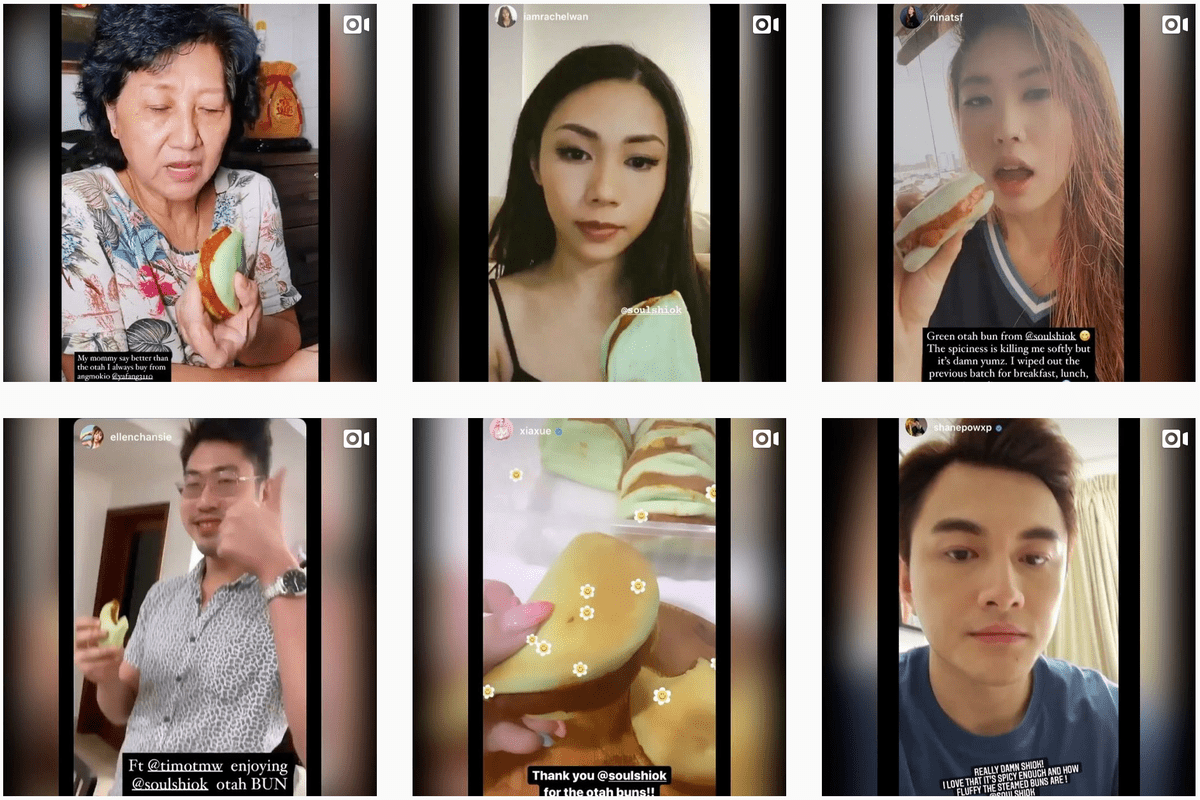 Soul Shiok also generates a high amount of user-generated content (UGC) which is basically any form of content made by the audience, instead of the brand itself. When shoutouts and reviews come from willing and excited users, this creates a sense of authenticity for the views of the page, and the best part is that it's free.
In the digital era, social media marketing is quintessential to your strategy. Useful tools like Instagram could just be the disruptive solution for startups in Singapore to go from rookie to unicorn.
If you want to learn more about social media marketing for startups, drop us a line at [email protected].