Your PR strategy must embrace storytelling and include it to achieve the best results. Effective storytelling allows your brand to reach consumers as well as reporters. Your story is the opportunity to create connections with potential clients and convince reporters to cover your brand. However, to achieve those goals with your story, you must know the ideal way to tell it.
How storytelling conventions can be used in writing an effective PR pitch
Although few people realize it at first, you can apply traditional storytelling conventions to your PR pitch just like an author would apply them to their novel or biography. It provides readers or viewers with a familiar structure, which may help them absorb the details of your story better or experience an unidentifiable familiarity.
Most importantly, storytelling conventions provide you with the structure to create your PR pitch. This saves you time, as you begin with an organized, cohesive structure that you know clients and reporters will understand. From there, you can easily fill in the various elements of the story structure with information specific to your brand, completing the story.
Try the "Hero's Journey" structure
The "Hero's Journey" structure is among the most widely used storytelling conventions. It is considered an archetypal story structure designed for hero myth stories. This structure is no longer limited to hero myth stories. Over the years, it has expanded to fantasy, science fiction, and nearly every other category, as well.
In the Hero's Journey, the hero is the main character. That hero spends the bulk of the story on their journey, during which they face danger and remain victorious. At the end of the story, they return home changed in some fundamental way. This change typically comes in the form of some profound character development, despite the hero being back in the same place that the story began. 
Here are some simple to use storytelling formulas
How can you apply this to PR?
When you look at the details of the Hero's Journey and various components of its structure, it becomes easier to apply that particular storytelling convention to your PR strategy.
Start the process off by visualizing your brand as the hero. This is the role of the storytelling convention that your brand will fill, so begin brainstorming.
From there, follow the typical storytelling convention of dividing your brand story into three acts.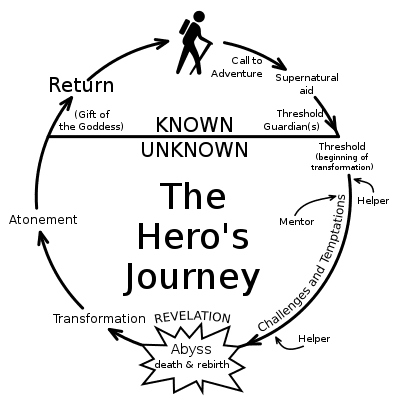 Act One: Introduction
In the Hero's Journey, Act One or the introduction is when the hero is called to go on his adventure. This part of the story sets us up for the adventure.
To apply it to your brand, think about the reasons that your brand exists. Contemplate any specific gaps in the market that you aim to fill or problems that you solve. The realization of a need to resolve those issues or filling in those gaps serve as your calling to go on a journey.
Act Two: Confrontation
Act Two of the Hero's Journey is the largest portion of most stories of this structure. This is when the hero has to deal with conflict or encounter a villain.
From the perspective of your brand, this is the time to explore the challenges that your brand has faced. Explore the issues that you have worked to overcome and detail the steps that you took to achieve your goals.
Act Three: Resolution
The final part of the Hero's Journey is the resolution when the hero comes back home with a reward and some fundamental change in themselves.
In terms of a PR strategy, this is where you outline the results that your business achieved. The changes to the hero in the story are the wisdom and experience that your brand can impart to others in the industry as well as onto clients.
Choose the story carefully
As you craft your company's Hero Journey, ask yourself who your audience is and what you want to say to them. Based on that answer, you can choose a particular challenge or journey that your business has overcome. Do not just limit yourself to your origin story. If your company does not have an exciting origin story, explore ways you have substantially changed other lives in your story.
Here's how to draft a PR pitch with personality
Use storytelling as a starting point
The Hero's Journey is just one of many storytelling conventions that you can use as a launching point to engage with potential clients and form your PR pitches. Be sure to create an emotional connection and incorporate data when relevant.
If you want to learn more about public relations or want to speak to a SYNC consultant about starting your brand's PR journey, contact us at [email protected].